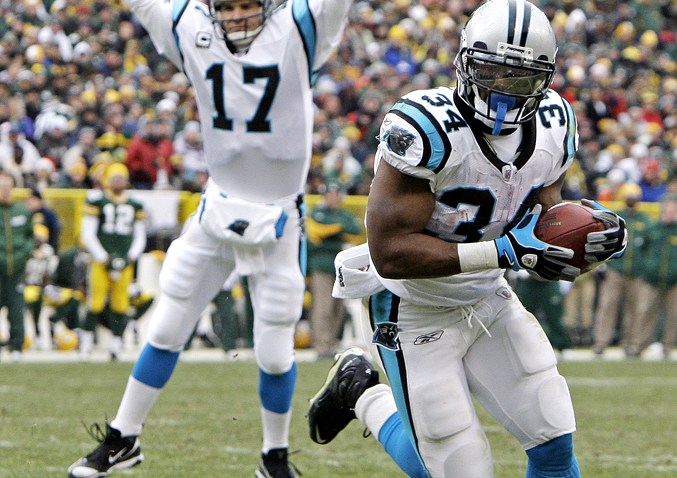 This year I was given the 8th overall pick in my NBC 5 fantasy football draft. I'll post for you below all my picks and some of the strategy that went into making my choices. The league has 12 teams.
I think I did a darn good job. Here's my team, The Cash Money Brothers. The name comes from one of my favorite movies New Jack City.
Round 1-DeAngelo Williams, RB, Carolina
Blue Star
The center of the Dallas Cowboys universe.
For some reason I had a choice between running backs Williams, Chris Johnson of the Titans, the 49ers Frank Gore and Steve Slaton of Houston. I love Slaton but I a tip from Gil Brandt of NFL.com and he's big on the Carolina running back. So, I went with him.
Round 2-Randy Moss, WR, New England
I wanted to make sure I got one of the top seven WR's in the draft. Moss set the NFL record for touchdown catches two years and ago and he looks in tune with Tom Brady in the preseason so I had to take him.
Round 3-Ryan Grant, RB, Green Bay
I had Grant last year in another fantasy league and he stunk it up for the first 8 weeks. Grant held out and got hurt, so that contributed to his slow start in 2008. I wanted to wipe the slate clean and give him another shot. I like the Packers offense.
Round 4-Aaron Rodgers,QB, Green Bay
Can you believe I got this type of QB in Round 4!! I wanted to make sure I got a quarterback who had Pro Bowl potential. My league gives six points for a passing TD, so you want a gunslinger. Two years ago, I had Tom Brady and last year I had Drew Brees. I expect Rodgers will throw for 4,000 yards and 30 TD's if he is healthy. He's thrown 6 TD's in three preseason games.
Round 5-Felix Jones, RB, Dallas
I love Felix Jones' big play ability. He was great until he was injured last year. Jones is a home run hitter and Wade Phillips says he wants the Cowboys to be a top ten rushing team so expect Jones to put up some impressive fantasy numbers.
Round 6-Anthony Gonzalez, Indy
At this point, I needed to add a starting WR next to Randy Moss in my lineup. Peyton Manning's starting wide receiver Anthony Gonzalez should blossom in his starting role now that Marvin Harrison is gone. This guy is a big time sleeper. I expect seven TD catches.
Round 7-Braylon Edwards, QB, Cleveland
How could I pass on this value. Last year, everything went wrong for the Browns offense. It can't get that bad again. Edwards in a free agency year so I expect him to ball.
Round 8-Matt Schaub, QB, Houston
He's got a ton of weapons. All he has to do is stay healthy.
Round 9-LeSean McCoy, RB, Philadelphia
Brian Westbrook is starting....who's coming off surgery. Smart money says McCoy will get plenty of action in Andy Reid's offense.
Round 10-Eddie Royal, WR, Denver
I really wanted to take Chris Henry of the Bengals, but Eddie Royal will get 90 catches in Denver. They will be behind and who knows what Brandon Marshall will do. Royal will be the trusted target of Broncos QB Kyle Orton.
Round 11-Joey Galloway, WR, New England
If Moss goes down, Galloway will get more catches. He will be their 3rd WR and see a lot of one on one coverage.
Round 12-Jeremy Maclin, WR, Philadelphia
I like the rookie and I think the Eagles will score a lot of points this year. I am not sure of his impact early, but I hope J-Mac does something later in the year like Desean Jackson did in 2009.
Round 13-Brent Celek, TE, Philadelphia
I waited to draft a tight end earlier but the best ones were going in the 5th round and I just wasn't going to pull the trigger on one unless it was a top player like Jason Witten (Dallas), Tony Gonzalez (Atlanta), Antonio Gates (San Diego) or Dallas Clark (Indy). Celek will get plenty of looks. He caught two TD's in the NFC Championship game so I see Celek as a sleeper tight end.
Round 14-Nick Folk, K, Dallas
I wait till the end of the draft to snag kickers. Folk was a Pro Bowler two years ago. I'll gamble on him.
Round 15-Chargers Defense/Special Teams
Can you say robbery? I didn't expect to get this unit. Shawne Merriman is back to rush the passer. Darren Sproles is cabable of taking kickoffs and punts to the house. They also play the Raiders, Broncos, and Chiefs twice this year. They were ranked 3rd overall by Sports Illustrated.
Now you know how I dominated my draft.