With Blake Bortles piling up passing numbers like never before in his career, Jacksonville coach Doug Marrone wants to get the Jaguars back to running.
Dak Prescott, Jason Garrett and the Dallas Cowboys have the opposite issue heading into a Sunday matchup with familiar faces on both sidelines.
Bortles has a chance to be just the fifth NFL quarterback with at least 375 yards passing in three straight games after establishing a career high in consecutive weeks. He also had a career-high four interceptions last week, which helped explain a 30-14 loss to undefeated Kansas City.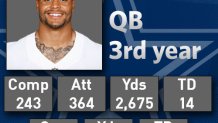 "That's not the way we want to play," Marrone said. "I probably should have done a better job of that. I just felt like we were pressing and trying to make plays. I just think overall I have to do a better job of managing that."
Of course, the Jaguars have some pretty good reasons to tilt toward the pass. Running back Leonard Fournette will be out for the fourth time in six games with a hamstring injury. Jacksonville is on its third left tackle in Josh Walker.
The Jaguars signed two-time All-Pro running back Jamaal Charles this week and expect him to contribute behind T.J. Yeldon against the Cowboys (2-3).
Blue Star
The center of the Dallas Cowboys universe.
"I think we were pretty fortunate last year as far as staying healthy," Bortles said. "This year we haven't been quite as lucky. These next three weeks, not looking ahead or anything, but to get to the bye week are important with the amount of guys we have down."
The Cowboys aren't looking for 375 yards passing from Prescott because they have the NFL rushing leader in Ezekiel Elliott. But inefficiency throwing is the biggest reason Dallas has a losing record and questions inside and outside the locker room about play-calling.
The bright side for Dallas: another home game. The Cowboys are trying to win the first three at home for the first time at 9-year-old AT&T Stadium. The worst of the offensive issues have been on the road.
"You just keep banging away," Garrett said. "There's a lot of good things we're doing offensively. We have to continue to build on those. There's plenty of things we've got to shore up and we'll try to address those things as directly as we can."
Things to know about the first meeting between these teams since the Cowboys made their first regular-season trip to London four years ago:
Photos: Dallas Cowboys Cheerleaders 2017
FAMILIAR FACES
Dallas receiver Allen Hurns, who questioned the play call on one of Prescott's interceptions but said he wasn't second-guessing offensive coordinator Scott Linehan, spent his first four years in Jacksonville before signing with the Cowboys in free agency this past offseason.
Safety Barry Church, in his second year with the Jaguars, was a cornerstone for the Dallas defense the last four of his seven seasons with the Cowboys. Both will be facing their former team for the first time.
"It's just like playing against your brother," said Hurns, who had his first touchdown with the Cowboys in last week's overtime loss to Houston but has just eight catches. "You don't want to lose. I don't want to say this game is bigger than any other game, but for sure one I want to win."
Inside the 2017 Dallas Cowboys Family Cookbook
SPEAKING OF FAMILIAR
Charles was a standout at Texas and won a national championship with the Longhorns as a freshman during the 2005 season. The former Chiefs star whose career has been marred by knee injuries lives near Houston.
The 31-year-old had been unsigned after spending last season as a backup in Denver. His return will be his first visit to the home of the Cowboys, a week after he was in Dallas watching the Texas-Oklahoma rivalry.
"I'm ready to get the dust off these cleats," he said.
DEFENSE FIRST
The Jaguars rode their defense to the AFC championship game last season. The Cowboys are relying on that unit more than usual with the difficulties in the passing game and an offensive line unsettled because of the absence of four-time Pro Bowl center Travis Frederick, who is battling a nerve condition.
Both teams are in the top five in scoring defense and bottom seven in scoring offense.
"It's going to be a battle among the defenses," Dallas defensive lineman Tyrone Crawford said. "That's the way I'm looking at it."
Copyright AP - Associated Press