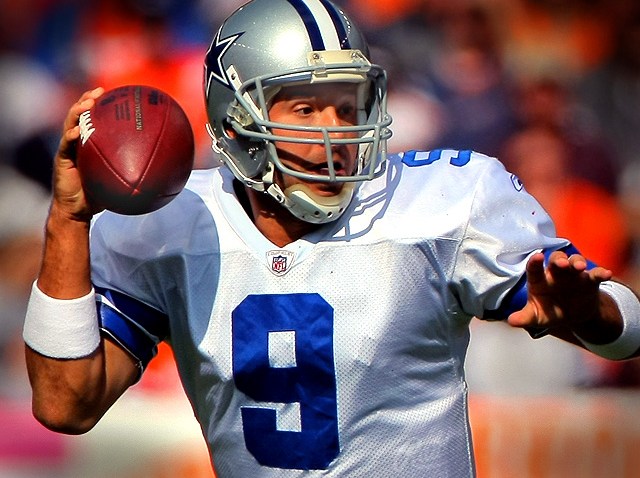 It pains me to write this, but I have to be honest:
Tony Romo
has regressed as the
Cowboys
quarterback.
As I look at the Cowboys with a 2-2 record, I have to look at the play of the quarterback and it's a big reason why this club is what Romo seems to be now: average.
Romo had two turnovers in Sunday's 17-10 loss to Denver. With the chance to send the game into overtime Romo threw an incomplete pass to
Sam Hurd
while failing to spot an open Miles Austin in the endzone. And for the first time in his career, he's gone two games without a touchdown pass.
He looks like a man playing without confidence. Anybody who watched him overthrow and miss open receivers in the second half could see it. Romo didn't lead the offense to any points in the final three quarters of play.
The Romo Haters will rejoice in his failure, but it's not all on Romo. He had help.
The Cowboys defense played so well for so long, but once again when the opposoing team wants a big play, they seem to target
cornerback Terence Newman
. T-New gave up the game winning touchdown to Brandon Marshall and after the game complained about a non-call by the refs, "If he didn't grab my jersey, the ball is going the other way, I can guarantee you," said Newman.
Geez, that statement is a part of the problem with the Cowboys. It sounds like a losers mentality of making an excuse. Sounds a lot like the head coach (
Wade Phillips
) who whimpered after the loss, "Denver's a good team and we caught them at a tough time. We've got to keep our team together. We have to improve on things obviously when you lose. Not everything was bad though. There were some good things."
Wade is not the guy to get the Cowboys to the promised land. I don't see this team having the fight to finish teams off, and linebacker Bradie James admitted these Cowboys don't have "a killer instinct" and they let teams hang around too long.
So who is supposed to bring out the killer instinct these guys lack? At 2-2 will they all of a sudden get it? It could happen, but I won't hold my breath. This is an average team.
An average team with a head coach whose team lacks discipline and a quarterback who's play is regressing. I won't even mention the offensive coordinator who continues to make some questionable calls which will lead to his firing at the end of the season.
Right now, this 2-2 team doesn't have the look of a club that can make the playoffs.

Newy Scruggs
www.newdawg.com