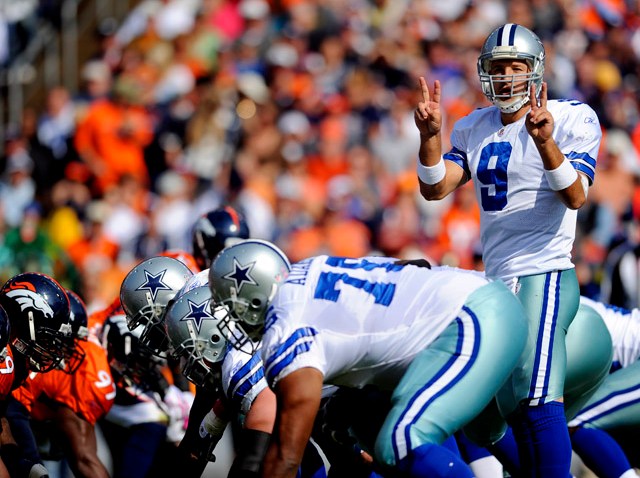 Tony Romo DID know it was fourth down.
KDFW-TV sports photographer Larry Rodriguez isolated on the Cowboys quarterback after he missed on a fourth down end zone pass to Sam Hurd in the teams loss at Denver on Sunday.
The video Mr. Rodriguez shot shows Romo trying to get the Cowboys huddled up after the incompletion to Hurd. After several seconds, Romo looked at an official and held up three fingers to indicate that he thought the previous play was a third down.
Blue Star
The center of the Dallas Cowboys universe.
So many are wondering if Romo knew it was fourth down. I saw the video and wondered the same thing. So what went down?
This is a statement from Cowboys PR man Rich Dalrymple:
As Tony was walking off the field after the fourth down play, he saw that the down marker on the Dallas sideline read "3." As it turned out, the marker was in the process of being changed, sequentially, from the number "4" to the number "1" for the Broncos ensuing possession. The marker on the Cowboys side read "3" temporarily. When he saw the "3," he thought there might have been the possibility of an error on the down count. After asking the officials (holding up three fingers), he then saw the down marker move through the progression from 3 to 2 to 1. He told the offense it was fourth down in the huddle prior to the last play.
It should be a fun media session for Romo Wednesday at Valley Ranch.