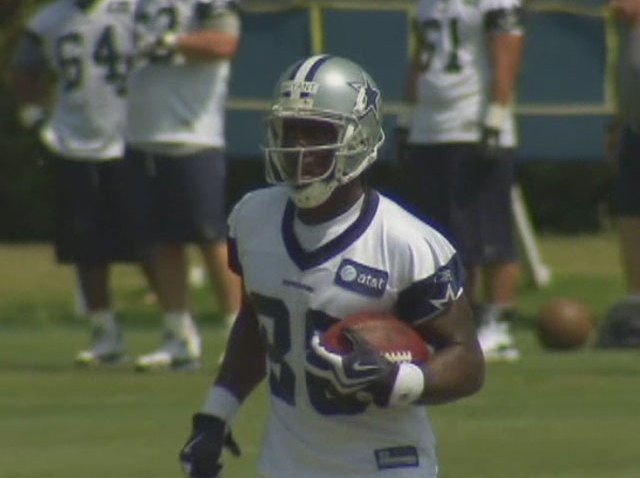 Dez Bryant is not a bad kid. He is not a diva. He is not the second coming of T.O.
I have already seen this kid getting ripped in the media for refusing to carry veteran Roy Williams shoulder pads. A national columnist took his shots on Fanhouse, "Thanks now to Dez Bryant, LeBron James isn't the most me-bloated, self-sniffing rebel without a pause button on the planet. See, Roy Williams told Dez to carry his shoulder pads like a good rookie, and Dez told him to get his own shine box because Dez doesn't play that. "
Of course the writer is NOT in San Antonio, but he is passing judgement on what kind of player and person Dez is.
Blue Star
The center of the Dallas Cowboys universe.
I spoke to former Cowboys player and current Jets assistant coach Dennis Thurman who believes Bryant should go along with the program because it's something all rookies do, recalling his days as a rookie in 1978 saying, "D.D. Lewis had me carry a bag of ice in a trash bag from the cafeteria to the dorm room to ice down the veterans beer," Thurman said on 105.3 The Fan. "And I had to lug it a quarter of mile. He wouldn't even let anybody drive me."
You can hear the full interview here I did with Thurman on 105.3 The Fan today.
Bryant was not happy with the media after Tuesday's morning practice saying the story has been overblown and he tries to do the right thing and will not let outsiders create problems for the team.
Dez is not an arrogant kid, I honestly don't think he knows what is expected of him as a rookie.
I spoke with Mickey Spagnola of dallascowboys.com on my 105.3 The Fan radio show today and he gave me the whole rundown of how Williams asked the rookie to carry his pads and it wasn't explained to Bryant at all. Williams just dropped two sets of shoulder pads next to him as he was doing an interview and pointed down to them as if to say, "bring them in" and Bryant shook his head no and kept going on with the interview.
That doesn't sound like a militant kid to me.
Bryant will be fine. Head coach Wade Phillips has his back and at some point he will have to do a few things for the vets. It's not a big deal and Dez is not a diva receiver in the class of Randy Moss, Chad Ochocinco or T.O.