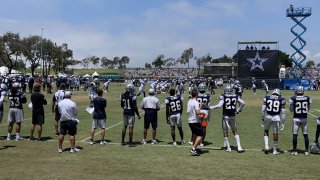 Dallas Cowboys quarterback Dak Prescott left practice Wednesday due to soreness in his throwing arm that turned out to be a muscle strain.
NBC 5's Newy Scruggs, reporting from training camp in Oxnard, California, tweeted Prescott left practice saying his arm was sore and didn't want to push it.
The Cowboys said as a precaution Prescott left practice to be checked out by doctors and that an MRI revealed Prescott has a muscle strain in his right shoulder. He will be treated and further evaluated on a day-to-day basis.
"I felt some soreness when making certain throws today, and I really just decided not to push things too far. Better to be cautious and smart about it. I don't see this as any kind of serious setback. We'll treat it on a daily basis, and I'll be fine," Prescott said.
In Prescott's absence, SMU's Garrett Gilbert got some reps running the first team in full pads.
A previously scheduled interview with Prescott was expected to still take place Wednesday afternoon. That interview will air soon on NBC 5.