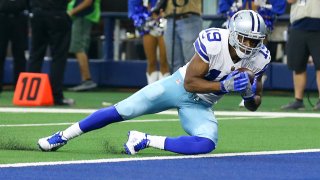 They say that diamonds are forever, and Dallas Cowboys wide receiver Amari Cooper just purchased goodwill with some teammates for a very long time.
According to a report by our media partners at The Dallas Morning News, the seventh-year wide out recently hooked up the Cowboys receiving corps, quarterback Dak Prescott, and some team trainers with diamond-encrusted dog tags.
The tags, made by Gabriel The Jeweler, display player numbers and an etching of the word "DAWGS." Cooper's order of 15 pieces reportedly cost the four-time Pro Bowler $120,000 total.
Read more about Cooper's gifts from our partners at The Dallas Morning News.
Copyright The Dallas Morning News