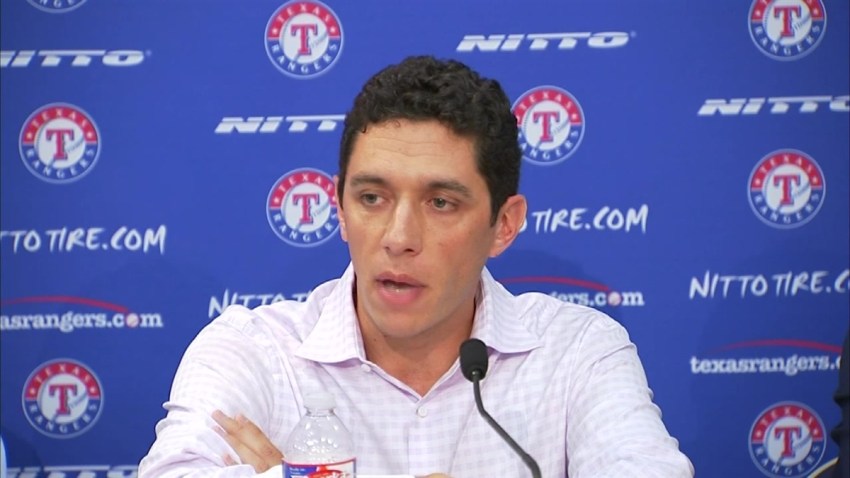 Last week the groundhog saw his shadow. This week the Rangers should spot your anger.
Well, you are mad right? At least extremely disappointed?
I know General Manager Jon Daniels entered the offseason and free agency mandating that the Rangers wouldn't be in on baseball's biggest fish. And, true to his word, he stuck to the small worms. The team that for years won with the long ball relied on small ball this winter.
Sports Connection
Connecting you to your favorite North Texas sports teams as well as sports news around the globe.
The results? They picked up a mid-rotation pitcher in Yovani Gallardo, potential starters in Ross Detwiler and Anthony Ranaudo, a backup catcher in Carlos Corporan and long-shot outfielders Ryan Ludwick and Nate Schierholtz.
Those are not the moves, in my opinion, of a team coming off 95 losses. Other than new manager Jeff Banister, the Rangers of last year will look a lot like the Rangers of this year. Status woe?
There are reasons, of course. The disaster last season was partially due to a myriad of injuries, and there's the hope that stars like Yu Darvish, Derek Holland, Prince Fielder, Shin-Soo Choo and Jurickson Profar will be healthy and productive. Improvement from within, if you will.
But here's the part I don't understand. The Rangers went to consecutive World Series and the fans flocked to Arlington. You went to games. You bought souvenirs. You watched on TV.
It was that popularity – and that relevance – that led to a new 20-year, $1.6 billion Fox TV contract. Yeah, with a "b." The Rangers are no longer a small-town team struggling to operate in the big city. That's big-boy money. This is big-boy baseball. And it should necessitate big-boy spending.
With a new lucrative revenue stream in a Top 5 media market, there's no excuse why the Rangers are headed to Spring Training with zero idea of who their starting left fielder will be. And it makes no sense that their 2015 payroll is static with 2014. If not to upgrading the roster, where exactly is all that TV money going? After all, you can only shoot off so many fireworks after a home run.
Considering their recent past and their current pocketbooks, fans should hold the Rangers' front office to higher standard of success. And that starts with spending.
A native Texan who was born in Duncanville and graduated from UT-Arlington, Richie Whitt has been a mainstay in the Metroplex media since 1986. He's held prominent roles on all media platforms including newspaper (Fort Worth Star-Telegram, Dallas Observer), radio (105.3 The Fan) and TV (co-host on TXA 21 and numerous guest appearances, including NBC 5). He currently lives in McKinney with his wife, Sybil, and two very spoiled dogs.
Copyright FREEL - NBC Local Media