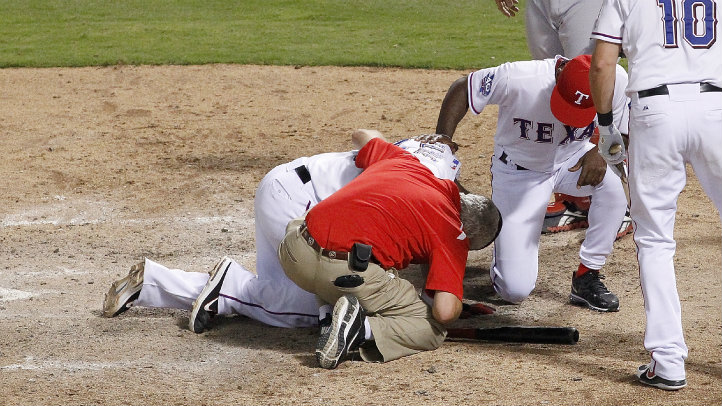 The replays remain cringe-worthy, but Rangers' third baseman Adrian Beltre is apparently concussion free after taking a Vicente Padilla fastball to the head in the eighth inning of the Rangers' loss to the Red Sox on Tuesday night.

Beltre reportedly showed no signs of a concussion in the initial examination by team doctors, shortly after the 92 MPH pitch collided with Beltre's helmet, forcing the All-Star third baseman from the game.

"I got hit pretty good," Beltre said, per the team's official website. "It's a bruise but not as bad as it looked."

A former Ranger, Padilla has long been known as a bit of head-hunter--a reputation over which he remains at odds with his former Rangers teammate Mark Texeira to this day. But Rangers' announcer Tom Grieve, for one, pretty much dismissed the notion that Padilla was going after Beltre--it was an 0-2 count in a 1-1 game with a man on third, after all--a sentiment that was echoed by the All-Star after the game.

"I don't think he was trying to hit me," Beltre said. "The score is 1-1, there is a man on third. I looked at the video, and the catcher was setting up away. He probably tried to throw a little harder, and it got away."

Another good sign for concerned Rangers' fans, Beltre's sense of humor remains intact, as evidenced by his response to a question about whether he and Padilla have had an issue in the past.

"Not that I remember," Beltre said. "Then again, I just got hit. Maybe I don't remember."
Copyright FREEL - NBC Local Media