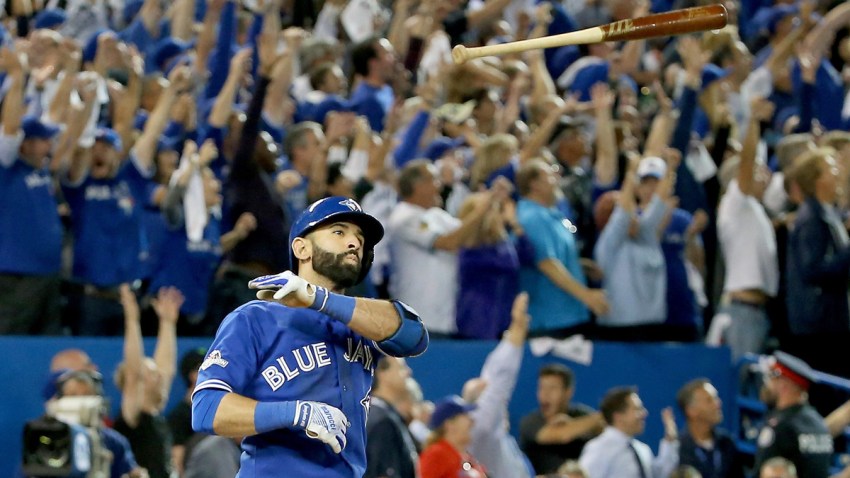 After possibly the most epic bat flip you'll ever see in a pretty big postseason moment, Blue Jays outfielder Jose Bautista will probably never be welcome in DFW again.
The Rangers made their thoughts on the antic clear after the game, highlighted by the victimized Sam Dyson calling him out for acting like a little leaguer or a beer league softball hero. That's all well and good, I suppose, as you'd expect a pitcher to not be too happy after being beaten in such a key spot.
But Rangers fans need to just chill for a bit when it comes to Bautista and bat flips.
Sports Connection
Connecting you to your favorite North Texas sports teams as well as sports news around the globe.
You realize, don't you, that the Rangers have one of the biggest antagonists in the game in Rougned Odor, and we all love it. Odor triples against Houston after being in the middle of a bench-clearing fracas earlier in the game, and barks at every infielder as he's tearing around the bases. It was awesome.
But when it's done to your team, you hate it.
Sports are supposed to be fun, and while I admittedly was irked in the moments after Bautista's bat launch, it didn't take long for me to realize I would've done the exact same thing in that moment, with that crowd, and with that monstrous shot off Dyson.
It's a game. Have fun with it and quit worrying about who's playing it "the right way" and who isn't.
Copyright FREEL - NBC Local Media