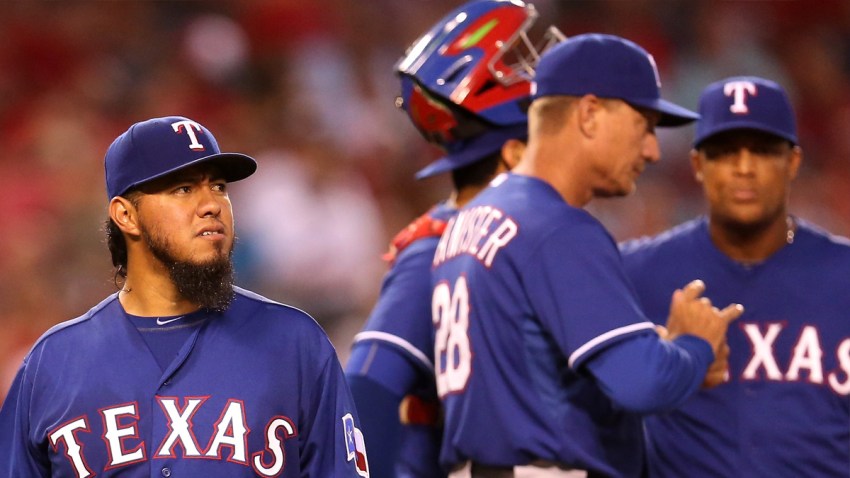 In my Christmas stocking I got one of those funny Pez dispensers. But instead of a Santa head or a Cartoon face, atop the toy was a baseball adorned with the Rangers' logo and cap.
I admit, my Christmas spirit was momentarily yanked back to October and the sting of that historically hideous Game 5 7th inning in Toronto. The errors. The ridiculously fundamental errors. The blown lead in that game. The blown lead in that series. The …
Misery loves company, and fortunately it goes right to the top. Rangers' manager Jeff Banister appeared on 96.7 FM last week and admitted, too, that the bitter end to an otherwise sweet season wouldn't — and shouldn't — quietly fade away.
Sports Connection
Connecting you to your favorite North Texas sports teams as well as sports news around the globe.
"The one thing I think I do well is I shower very well," Banister said on the station. "That doesn't mean that I have forgotten any part of that loss. Because as I talked to every one of our players at the very end and right after that game, 'Don't forget this one. Don't just gloss past this one. Allow this one to burn for the entire winter. Because if this doesn't get you up in the morning to get to the gym, to get to the field, to give you some determination to continue to work for what you want to achieve then I don't know what motivation is out there.' So I'm not going to allow this one just to go away."
Once pitchers and catchers report, of course, this year will become last year and hope will again spring eternal. We can thankfully start focusing on Game 1 in April rather than Game 5 last October.
"But we all need to find a way to wash well," Banister continued. "Part of that shower process is to learn to not allow that burn to get too hot. There is a moment in time where you shut the door. You close one door and you open another. And that's similar to what I talked to our guys about in spring training last year about 2014. One of the things we did for them was we helped them close the book on 2014. We've talked about the playoff loss, of how it's going to help us, how we're going to utilize that burn. And we can shut the door on that playoff loss. It's just about finding the appropriate time."
Bottom line: Only a couple months until I eat my candy.

A native Texan who was born in Duncanville and graduated from UT-Arlington, Richie Whitt has been a mainstay in the Metroplex media since 1986. He's held prominent roles on all media platforms including newspaper (Fort Worth Star-Telegram, Dallas Observer), radio (105.3 The Fan) and TV (co-host on TXA 21 and numerous guest appearances, including NBC 5). He lives in McKinney with his wife, Sybil, and two very spoiled dogs.
Copyright FREEL - NBC Local Media