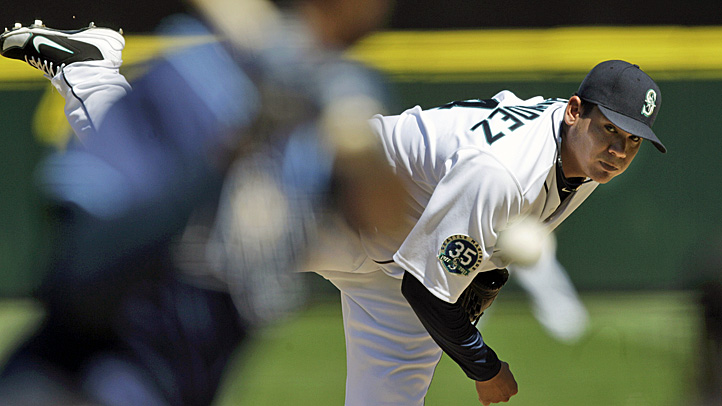 In a weekly segment, we'll take a look around the AL West — what's happened so far, and what's on tap in the coming days.
1. Oakland Athletics (40-26) — The A's continue to be one of baseball's best teams, but they're getting a push from a couple of division foes — none of which are the Rangers, yet. They held off the Angels on Wednesday night to avoid seeing their lead shrink to just 1 1/2 games. Next up: Friday, 9:05 p.m., vs. New York Yankees.
2. Los Angeles Angels (36-29) — The Angels have continued to stay hot and appear to be in it for the long haul. If they can't pass the A's this year, you'd have to think they look like a virtual lock to get one of the AL's two wild card spots as the West has become the best division in the American League, if not all of baseball. Next up: Friday, 6:35 p.m., at Atlanta Braves.
Sports Connection
Connecting you to your favorite North Texas sports teams as well as sports news around the globe.
3. Seattle Mariners (34-31) — The Mariners are actually the hottest team in the division over the last 10 games, and that's despite dropping two straight games to the Yankees. The pitching duo of Felix Hernandez and Hisashi Iwakuma are absolutely dominating the competition and Robinson Cano is near the top of the league in batting. Next up: Today, 9:10 p.m., vs. New York Yankees.
4. Texas Rangers (32-34) — Somehow, some way, the Rangers continue to hover around .500 and stay alive in the AL Wild Card race. The Rangers won Yu Darvish's masterful start on Wednesday night. Guess what their last win was prior to that? Yup, Darvish's previous start. That makes some sense, but that can't become a trend if the Rangers want to stay alive despite the historic rash of injuries. Next up: Friday, 9:10 p.m., at Seattle Mariners.
5. Houston Astros (30-37) — Remember that team we all used to point and laugh at? Well, they aren't so laughable anymore. Are they going to make the playoffs this year? No. But they have two of the most exciting young prospects in the game right now as George Springer and Jonathan Singleton are both knocking the cover off the baseball. They're only 2 1/2 games back of fourth-place Texas. That's stunning. Next up: Today, 7:10 p.m., vs. Arizona Diamondbacks.
Copyright FREEL - NBC Local Media