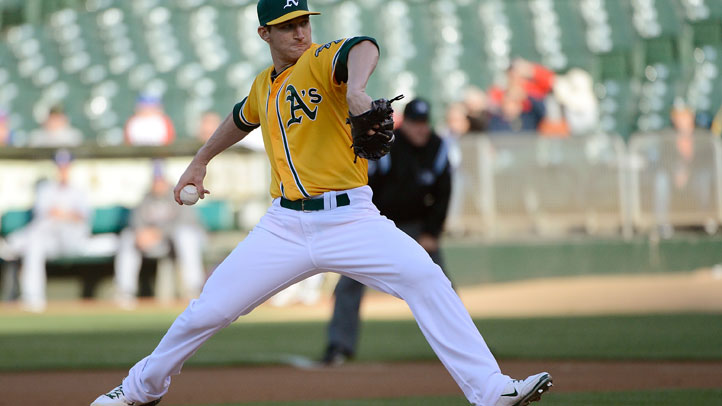 In a weekly segment, we'll take a look around the AL West — what's happened so far, and what's on tap in the coming days.
1. Texas Rangers (55-36) — Despite everything that's gone painfully wrong for this team, they're still increasing their lead with seemingly each passing day. Now things get tougher as nine of their next 10 opponents are contending for playoff spots after a soft month and a half in the schedule. Josh Hamilton is still in a terrible way, as is Mike Napoli, and Nelson Cruz, and the list goes on. The West won't be decided in the next two weeks, but it'll be hotly contested as the Rangers and Angels meet seven times, starting tonight. Next up: Today, 9:05 p.m., at Los Angeles Angels.
2. Los Angeles Angels (50-43) — The Angels have gotten off a bad start to the second half similar to their start to the first half. Only 4-6 in their last 10 games, a similar string of games against the Rangers could be detrimental. Tonight is a must-win for the Angels, who are sending ace Jered Weaver to the mound, a pitcher the Rangers have never beaten in Anaheim but who the Rangers have been the only team to beat this season. Next up: Today, 9:05 p.m., vs. Texas Rangers.
Sports Connection
Connecting you to your favorite North Texas sports teams as well as sports news around the globe.
3. Oakland A's (48-44) — Well, you can officially say it now, the A's are contending for a playoff spot. Only a half-game back in the race for the new second wild card spot, the A's have always done it with pitching but have been severely lacking in the offense department. Now, with Yoenis Cespesdes, Josh Reddick and friends, they're starting to put together a young winning team. Will is last? It's hard to say, but right now they're right in the thick of things and the AL West can possibly lay claim to being the best division in all of baseball. Next up: Today, 9:05 p.m. vs. New York Yankees.
4. Seattle Mariners (40-54) — As we learned over the weekend, if Felix Hernandez isn't pitching for the Mariners, you can pretty much eliminate any chance the Mariners have of winning a baseball game. Their offense is just awful. There's no other way to say it. Next up: Today, 7:10 p.m., at Tampa Bay Rays.
Copyright FREEL - NBC Local Media