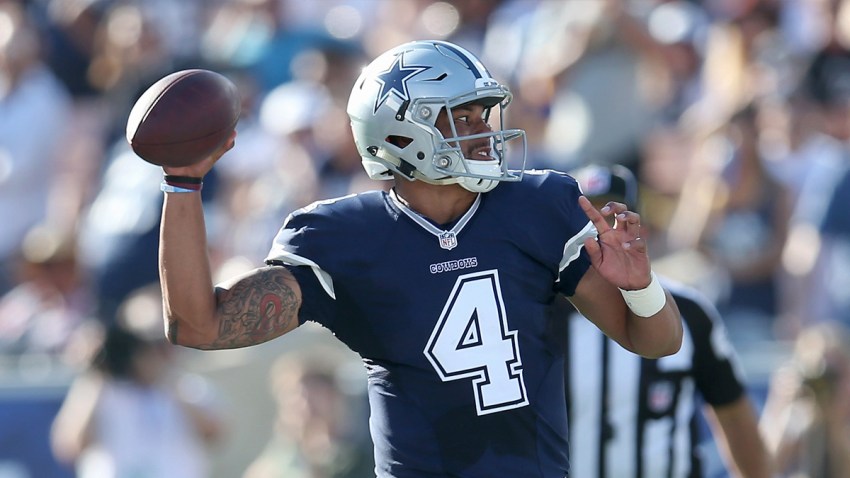 All aboard the Dak Prescott bandwagon.
After the rookie's strong showing in Los Angeles Saturday night, many Cowboys fans think they have their quarterback of the future. Or at least the backup of the present.
Prescott's numbers look good — 10-12 for 139 yards and 2 TDs — but looking beyond his numbers gives a more realistic view of what to expect from him going forward.
The Good
Throw 8: Off play action, Prescott spotted Brice Butler, who found a lot of green grass against zone coverage, and delivered a strong, accurate throw.
Sports Connection
Connecting you to your favorite North Texas sports teams as well as sports news around the globe.
Throw 2: Prescott recognized man coverage, looked off the Rams' safety and hit Cole Beasley in stride.
Throw 9: He went to his second read and found Terrance Williams, who got behind the Rams' three-deep zone. Good recognition, quick decision and a nice throw.
The Not-So-Good
Throw 3: Prescott had the right idea when he threw a back-shoulder fade to Dez Bryant against single coverage, but he overstrode and delivered an inaccurate ball.
Throw 1: On a designed bootleg, Prescott faced light pressure and missed a short throw to Geoff Swaim. Swaim should have caught it, but it was a poor throw.
Mechanics: Some of Prescott's bad habits — inconsistent footwork and rushed delivery against pressure — carried over into the NFL.
Verdict: Incomplete
It was the first preseason game, so we can glean about as much from Prescott's performance as we could if it had been a 7-on-7 game.
Prescott's numbers look good, but he put them up from clean pockets against vanilla looks on defense. He also only went beyond his first read once. If he were to face disguised coverages and blitzes, he'd struggle.
While the first pre-season game didn't do much to change my pre-draft view of Prescott, he did show more growth than I expected. He limited inaccurate throws and showed good decision making in the pocket. He's not the best option to be the back-up quarterback of a playoff-caliber team, but he does appear to be a worthy developmental quarterback.