It's Texas-OU weekend in Dallas. Ever wondered how the official game balls gets to Big D?

Every year the NROTC Battalion participates in the "Run to Dallas" where they deliver the game ball to the Red River Shoot-Out, the annual football game between the Texas Longhorns and their long-standing rivals, the Oklahoma Sooners.
"This is one of our biggest traditions. It's been going on for 31 years," said Parker Rost, a senior at UT.
It started on Wednesday before to the Red River Shoot-Out, when Longhorn Head Football Coach Tom Herman passed the game ball to NROTC Battalion.
How the Texas-OU Game Balls Get to Dallas
Members of the Battalion take turns carrying the game ball and running it North, from Darrel K. Royal-Texas Memorial Stadium in Austin, to Cotton Bowl Stadium in Dallas.

The OU NROTC Battalion mirrors the Run-to-Dallas event by running their game ball South, from OU to Dallas.

Students from both NROTCs arrived with the game day balls at the Cotton Bowl at about 11 a.m. Friday.

Texas-OU Game Footballs En Route to Dallas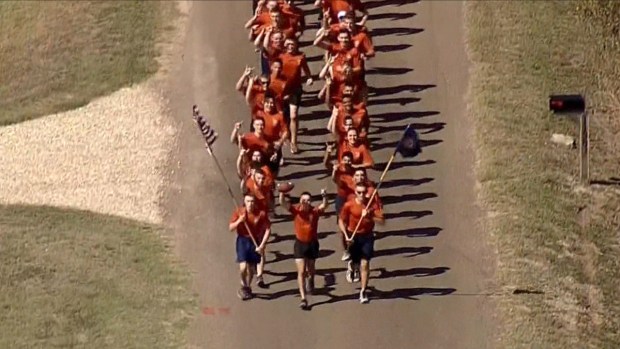 On Friday afternoon, the students played each other in flag football.

After miles of running, many students were exhausted, but still ready to play.

"I'm pretty tired a little sore but ready to go play some football against UT," said Cole Watson, a senior at OU.

The winner of the game gets a trophy, and of course bragging rights for the next year.
NBC 5's Lexie Houghtaling contributed to this report.