Dallas Mavericks player JJ Barea landed at Dallas Love Field just before 7 p.m. Tuesday night and walked off the team plane with family and friends from Puerto Rico in tow.
"My grandmother's here," Barea said talking to reporters. "We had to get her out."
Barea's grandmother was among several family and friends brought to Dallas from hurricane-ravaged Puerto Rico, including the mother of a close friend who was expecting twins any day, and a woman whom Barea just met who needed to get to the East Coast for a transplant operation.
Mark Cuban Donates Plane to Puerto Rico Relief Effort
Mavericks owner Mark Cuban donated use of the team plane so Barea could bring donations of generators, water, medicine, and supplies to his native Puerto Rico.
"I'm thankful for my contacts here," Barea said. "I'm a family guy, and the Dallas Mavericks are a family."
Barea talked with NBC News correspondent Gabe Gutierrez in San Juan, Puerto Rico, earlier on Tuesday.
Barea told Gutierrez that the Mavericks' plane staff flew himself and some close Puerto Rican friends from Dallas to the island along with a planeload of supplies.
JJ Barea Uses Mavs Plane to Fly Relief Supplies to Puerto Rico (Raw Video)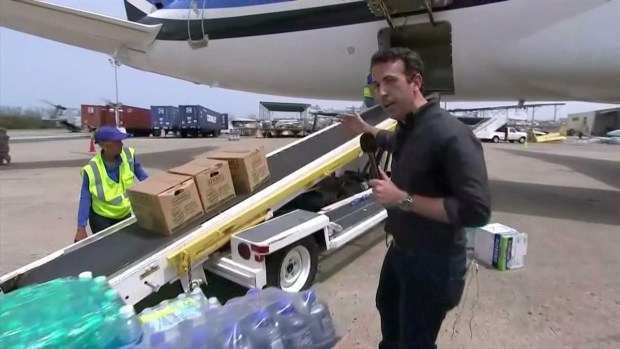 Airport workers were seen unloading generators, cases of water, diapers, baby wipes, first aid kits and other necessary supplies.
He said he was only making a quick stop at the island and hoped to be able to tour some of the devastated areas before leaving to pick up more supplies.
"When I go down there after the season is over, you look out the window and you see beautiful. You see green, you see the water is blue, you see people having fun, you see the houses are nice," Barea said. "You look out the window today and it's like a bomb exploded."
Barea said anyone who can help should, now.
"I'm just trying to get the word out Puerto Rico is really in a bad spot and it's gonna be like that for a while," Barea said. "Hopefully the help gets there and we keep getting better."
Barea said he has several more 18-wheelers full of donations. He is working with Cuban to arrange another donation flight to Puerto Rico.
HOW TO HELP:To donate to Barea's crowdfunding campaign to assist Puerto Rico, click here.