Several DeSoto High School volleyball players knelt during the national anthem before a game Tuesday night.
Cellphone video captured varsity and junior varsity players holding hands and kneeling. Players told NBC 5 the next black man shot could be their dad, brother or boyfriend.
Afterward, coach Rhea Reed said she was proud of her team.
"I support their decision 100 percent," she said. "In no way does their stance take away from their love of country, our service men and women or the flag. It is an outcry for compassion, understanding and change."
Art Archuleta, a parent of a DeSoto High School volleyball player, said nobody outside of the players knew the team would kneel as a sign of solidarity.
"They made the decision as a team and did it on their own," he said.
Archuleta said he supports his daughter's decision.
"It represents America. America is not perfect at times," he said. "When it's not, you have to show that you don't agree with some stuff that's going on."
Administrators Respond to DeSoto Volleyball Protest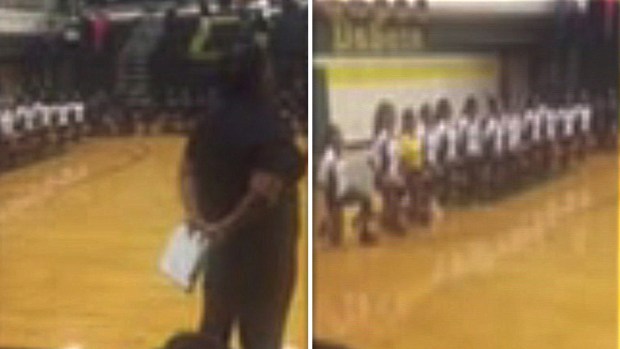 DeSoto school board president Carl Sherman released the following statement:
"Our students are constantly exposed to the realities facing our Nation today, specifically the reality of what it means to be a minority in a society with implicit biases. In DeSoto, we teach our students to become thought leaders and active participants in their educational process. While their actions may make some people uncomfortable, I applaud these students for exercising their first amendment rights in a civil, non-confrontational way.
"Our students are witnessing the erosion of the 14th amendment right before their eyes. A lesson in liberty and justice, once reserved for textbooks, is now on full display in streets across our Nation. One can only imagine the fear in their hearts watching these events unfold. Our young people are hurting, and we must listen and hear their pain. As an institution of learning, we are charged with preparing our students to become problems solvers and productive citizens; not to stifle their innovation or rejection of complacency. None of us have the right to infringe on the rights extended to our young people as American citizens. I am thankful for our coaches and administrators who allowed our students to take the road less traveled. It is my prayer that it makes all the difference for our students, our community and these United States of America."
DeSoto ISD Superintendent Dr. David C. Harris released the following statement Wednesday:
NBC 5's Chris Jose contributed to this report.