On Tuesday, Shaun White got his halfpipe redemption with a gold medal run, Mikaela Shiffrin is still waiting to ski and figure skating returned, The action-packed day included speed skater Maame Biney as well as Shani Davis and Joey Mantia, plus Team USA dominating the Olympic Athletes from Russia in a women's hockey.
Back on Top: Shaun White Wins Halfpipe Gold
Team USA's Shaun White held off a strong field Wednesday and soared to victory in the men's halfpipe competition in Pyeongchang. White's gold medal marks the 100th for Team USA in its history of competing at the Winter Olympics.
Japan's Ayumu Hirano took the silver, while Australia's Scotty James earned the bronze.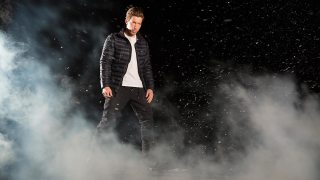 Model Olympian: Shaun White White earned gold in Turin in 2006 and Vancouver in 2010, but didn't even crack the top three in Sochi. That outcome haunted him at times before he hit reset last summer and pointed to South Korea.
In qualifying, White exhaled after putting up a 93.75 on his first run, ensuring a spot in the finals. He later topped his own score with a 98.5.
Watch: Shaun White Wins Gold in Epic Halfpipe Run

Must See: Shaun White Defies Gravity in First Halfpipe Run

Mikaela Shiffrin's Olympic Debut Postponed — for a 2nd Time
Mikaela Shiffrin will have to wait a little longer to make her Pyeongchang debut.
She must wait to ski in her signature event, the slalom, after it was postponed Wednesday morning due to high winds. She was the youngest-ever Olympic slalom champion at the Sochi Games at age 18, and she's the first woman to win three consecutive slalom world titles in 78 years.
Model Olympian: Mikaela Shiffrin Shiffrin hopes to become the first person to win the slalom gold medal twice in a row. She was initially set to make her Pyeongchang debut in the giant slalom race earlier in the week, but it was postponed due to dangerous winds.
The race has been moved to Friday, after the giant slalom race rescheduled for Thursday morning (Wednesday night in the U.S.).
Lindsey Vonn, another standout American skier, will not compete in the slalom.
Must See: Mikaela Shiffrin Stares Down Lofty Gold Medal Goals

The Knierims Advance to Pairs Figure Skating Final
Team USA's lone entry in pairs' figure skating, Alexa Scimeca Knierim and Chris Knierim, finished the short program portion of the competition in 14th place Wednesday morning at Gangneung Ice Arena. The score qualified them for the next stage, free skate, set for Thursday morning.
Skating to "Come What May" from "Moulin Rouge!" the Knierims scored a 65.55 — 34.18 for their technical score and 31.37 for performance. They were the 13th of 22 pairs to skate, with the top 16 advancing to the final.
It has been a busy first week in Pyeongchang for the husband and wife team. As the only U.S. pair, the Knierims skated both the short program and free skate in the figure skating team event, in which Team USA took bronze.
Watch:Knierims Seal Short Program With a Kiss

Must See: Olympic Couples: Ice, Snow and Love in the Air in Pyeongchang

Speedskater Maame Biney Doesn't Make 500-Meter Semifinals
Maame Biney, the first black woman to qualify for a U.S. Olympic speedskating team, didn't progress out of the quarterfinals in the 500-meter short track event.
After an uncharacteristically slow start, the 18-year-old came last in her heat, where only the first two of the four skaters move on to the semifinals. But she faced stiff competition — China's Fan Kexin, who has six world medals in the 500 meter and has been seen as a contender for gold, only managed second place.
Biney was the only American in contention for the 500 meter, but it won't be her last event in Pyeongchang. She qualified for the 1,500 meter, which begins Saturday at 4 a.m. CT.

Watch: Maame Biney Eliminated in 500m Quarterfinal

Must See: Proud Parent - Maame Biney's Dad Celebrates in the Stands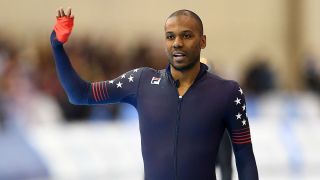 10 Fast Facts About Speedskating Star Shani Davis Four-time Olympic medalist Shani Davis and his compatriots Joey Mantia and Brian Hansen were unable to grab a place on the podium in the 1,500-meter long track speedskating event Tuesday.
Davis and Mantia were part of the disappointing team that went without any medals at the Sochi Games in 2014, which Mantia has called "a complete disaster." The 1,500 meter is his best event and he was considered the Americans' best shot at a medal.
Mantia's eighth place finish was the best among the Americans and an improvement on his Sochi results, but nowhere near the Netherlands' Kjeld Nuis, who took gold. Team USA hasn't won a speedskating medal since the Vancouver Olympics in 2010.

Watch:Dutch Dominate Men's 1500m

Must See: Mantia, Davis Fall Short of Medals in Men's 1500M Speedskating

US Shut Outs Russians 5-0 in Women's Hockey, Lamoureux Davidson Sets Record
American Jocelyne-Lamoureux Davidson has set the Olympic hockey record for the fastest consecutive goals by a man or woman, helping the United States shut out the Russians 5-0. Lamoureux-Davidson scored 6 seconds apart in the second period.
Model Olympians: U.S. Women's Hockey Team According to the International Ice Hockey Federation, that topped not only the mark previously held by Caroline Oullette of Canada at 16 seconds in 2006 against Italy in Turin but also the men's mark of 8 seconds apart set by Carl Goran Oberg of Sweden in 1960 at Squaw Valley.
Up next for the Americans is an early showdown with their biggest rival on Thursday against Canada.
Watch: Lamoureux-Davidson Sets Record With Two Goals in Six Secconds

Must See: US Shut Out Russians in Women's Hockey