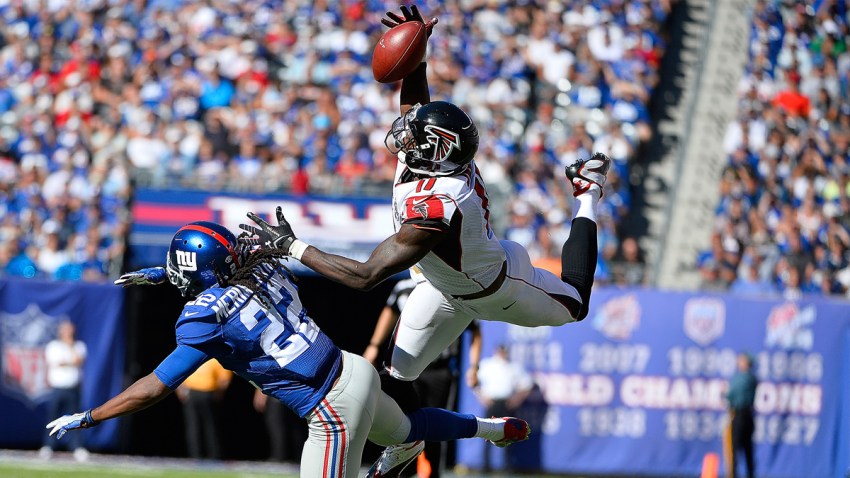 The Cowboys have managed to win their first two games without playing their best football, but they keep losing integral players in the process. The Atlanta Falcons come to town Sunday to test the Dallas team whose quarterback has joined on their best wide receiver and top two pass rushers on the sideline.
Former Seattle defensive coordinator Dan Quinn is only two games into his tenure as Falcons' head coach, but his team is already beginning to resemble the Seahawks. They run a lot of play-action passes off a steady diet of outside zone runs — heavy on the cutbacks — and a base 4-3 under front with defenders that are getting smaller and speedier.
1. Julio Jones
Sports Connection
Connecting you to your favorite North Texas sports teams as well as sports news around the globe.
With Dez Bryant out with an injury, there might not be a more physically talented wide receiver playing in the NFL right now.
The Falcons seem to have acknowledged that their rushing attack is pathetic — averaging a meager 2.8 yards per rush — as they ran the ball 10 fewer times from Week 1 to Week 2. Instead, they isolated Jones on smoke routes and bubble screens. The results were much more effective, gaining 4 to 7 yards each play.
When he's not propping the offense's short-yardage game, he's winning battles at the catch point and making acrobatic grabs all over the field, like the game-winner against the Giants last Sunday. Offensive Coordinator Kyle Shanahan moves him around, so he'll be a tough test even for a team keying on him.
2. Vic Beasley
Beasley was considered by many to be the top edge rusher in the 2015 NFL Draft and he's beginning to show why only two games into his career. After a slow start in Week 1, he was constantly in the backfield against the Giants.

Beasley is undersized by traditional standards, but unconventional thinking is what made Seattle's roster so talented. He's a Tasmanian devil in the mold of Bruce Irvin who can rush through any gap, so expect him to give the Cowboys offensive line fits Sunday.
3. Matt Ryan > Brandon Weeden
When given time, Matt Ryan will pick apart opposing defenses. So will Brandon Weeden, to an extent.
Under pressure, "Matty Ice" is calm, moves well in the pocket and easily finds his hot routes. Weeden has struggled in that area.
The key to Sunday's game will be how the quarterback's respond to pressure. The Cowboys can pressure all they want, but they must finish those plays to be effective. On the other hand, the Falcons just have to get into the backfield to disrupt Weeden and the Cowboys' offense.
Conclusion
The Falcons look like the class of the NFC South, but that might not be saying much. Their coaching staff has them moving in the right direction, though, and they already have a group of talented players, which makes them competitive now.
Any team that loses players the caliber of Romo, Bryant and Randy Gregory is going to be hard pressed to remain competitive. Sunday's game probably won't be as lopsided as it should, though, and it will likely be won by the team that simply makes the fewest mistakes. I'd bet on a Matt Ryan-led team to fit that bill better than a Weeden-led one.