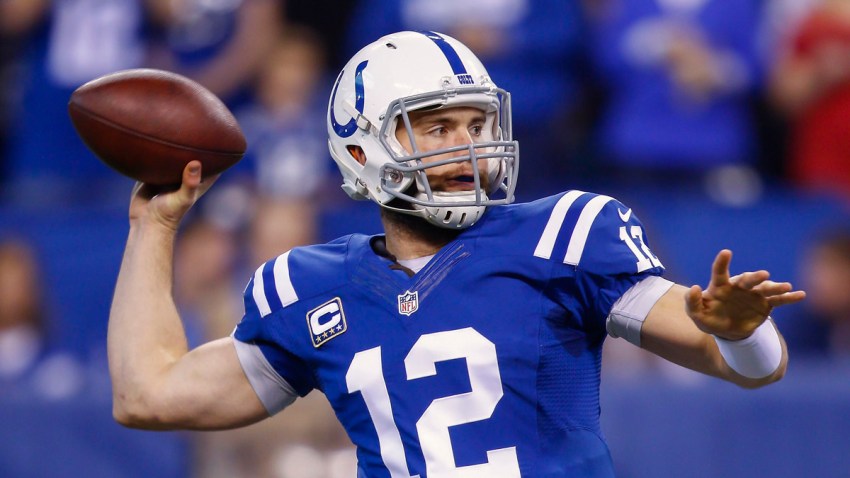 Last Sunday's win in Philadelphia was the Cowboys' biggest in a few years, but fans who think they can rest easy on the way to the playoffs need to think again.
The Indianapolis Colts come to Arlington — where the Cowboys have struggled this season — having already wrapped up the AFC South with a 10-4 record. Only the Ravens and Patriots are outscoring their competition by more points than the Colts, who also rank third in the NFL in scoring offense.
If the Eagles beat the Redskins and Giants in their final two games, the Cowboys will miss the playoffs with a loss to the Colts. Indianapolis is a dangerous team because of...
Sports Connection
Connecting you to your favorite North Texas sports teams as well as sports news around the globe.
1. NFL's Best Young QB
We've heard about the great Andrew Luck since his redshirt freshman year at Stanford, but this season he's actually exceeding the hype. Put simply, he is the best quarterback in the NFL younger than 30 and it's not particularly close.
Arm strength, accuracy, pocket presence and movement…name the quality and Luck has it. He is also extremely athletic, posting combine numbers eerily similar to Cam Newton after college, but his intelligence is what sets him apart. He has an understanding of the game uncommon in a third-year quarterback, which has accelerated his learning curve exponentially.
After two relatively mediocre seasons, Luck is finally producing at a level more commensurate with his potential. His Adjusted Yards per Attempt (yards per attempt weighted with touchdowns and interceptions) of 8.0 ranks fifth in the NFL. He has thrown more interceptions than ideal, but it seems like they stem more from calculated risk than inaccuracy or bad decisions.
There's a very good chance Luck passes for more than 350 yards against the Cowboys Sunday. It can be frustrating, but try to just sit back and enjoy watching an elite quarterback grow up.
2. Young TE Tandem
On the surface, the Cowboys giving up an average of about 60 yards and .5 touchdowns per game to tight ends doesn't look too bad. But the truth is, tight ends on teams that use them properly have had their way with the Dallas defense.
And not many teams use their tight ends as much as the Colts.
Many draft "experts" raised an eyebrow when Indianapolis selected tight ends in consecutive rounds of the 2012 draft, but tight end Coby Fleener and H-back Dwayne Allen have quietly become two of the more productive tight ends in football (both rank among the NFL's top 20 in receiving yards).
Fleener is the deep threat you'll see running down the seam a handful of times Sunday. He's averaging 16.4 yards per reception, tops among tight ends with more than 20 catches, and his 15 receptions of 20 yards or more ranks second only to New England's Rob Gronkowski. Both are redzone favorites, rank fifth (Allen) and sixth (Fleener) among tight ends in touchdowns.
3. An Emerging CB
It's too early to rank Colts' cornerback Vontae Davis among the league's elite, but he's getting close. He's always had the size, length, speed and pedigree (brother to 49ers tight end Vernon Davis), and his production is catching up.
The Colts defense is fairly mediocre as a whole, ranking 13th in the NFL in passer rating against (85.5), but Davis has been shutting down receivers — minus a few hiccups — since he held the Broncos' Demaryius Thomas to 48 yards in Week 1.
Not many defensive backs can shut Dez Bryant out, but Davis is the best cover corner the Cowboys face this season not named Richard Sherman. If Davis can limit Bryant the way he has with comparable receivers this year, the Cowboys offense might struggle to keep up with the Colts.
Bottom Line

Sunday's game between the Cowboys and Colts features two teams in very different playoff positions. The Colts have already won their division and are working on a bye while the Cowboys must win out to ensure they even make the postseason.
The Cowboys have struggled at home (3-4) this year, and now they have to figure out a way to buck the trend against the highest scoring offense they face this season or risk spending another January on the couch.