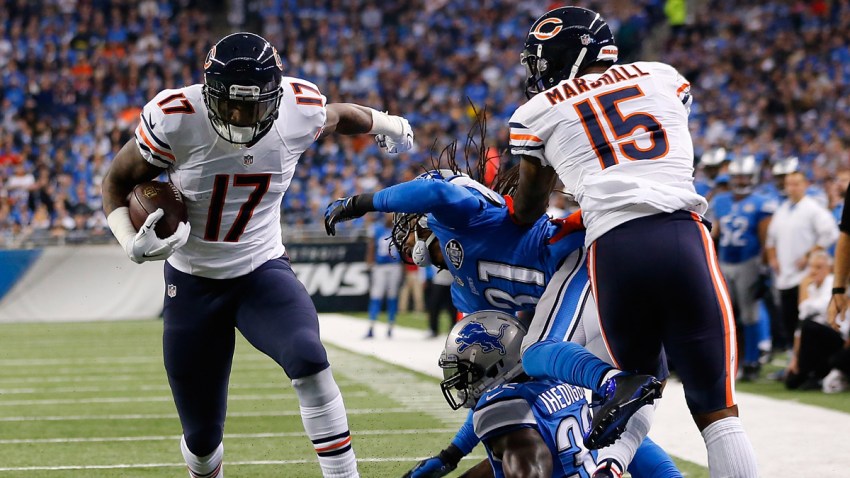 The Cowboys visit the Windy City for a Thursday night contest between two teams that were mirror images of each other last season.
The 2013 Bears and the 2013 Cowboys both boasted scoring offenses in the top 5 of the league while ranking in the bottom three in defensive yards per play. Both teams' potent offenses struggled to keep up with their pitiful defenses on the way to identical 8-8 records.
The Bears drafted some promising young talent (like cornerback Kyle Fuller) and acquired some productive veterans (edge players Jared Allen and Willie Young), but the defense is still terrible. If the Bears are going to win Thursday night, it will be on the shoulders of their regressing, but potent offense.
Sports Connection
Connecting you to your favorite North Texas sports teams as well as sports news around the globe.
1. Three Big Pass Catchers
No matter the formation, expect to see three big-bodied pass catchers on the field for the Bears most of the time.
The Bears' trio of wide receivers Brandon Marshall (6-foot-4, 230 pounds) and Alshon Jeffery (6-foot-3, 216 pounds) as well as former Cowboy tight end Martellus Bennett (6-foot-6, 265 pounds) present a matchup nightmare for any secondary.
With their size, catch radius and high-pointing ability, Marshall and Jefferey are often open even against tight coverage, so the Cowboys will likely have to keep at least one safety deep on every play. In turn, their linebackers must play with discipline because of…
2. A Classic West Coast Offense RB
Running backs might be devalued in the NFL these days, but Matt Forte is a key component in Chicago's offense.
With 822 rushing yards and 598 receiving yards through 11 games, he has a legitimate shot at becoming only the third running back in league history with 1,000 yards rushing and receiving in a season (San Francisco's Roger Craig was the first in 1985 followed by Marshall Faulk for the Rams in 1999).
Combining the their size at wide receiver with Forte's versatility lets the Bears disguise plays behind just about any formation.
3. "Gimmick" Plays
Once considered to be just another type of "college offense," nearly every team now uses packaged plays at some point. When the Cowboys are in a heavy formation against a Cover-0 look and Tony Romo throws a back-shoulder fade to Dez Bryant, for example, it's often a packaged play read (watch to see if the offensive line blocks run).
Since the Bears have a dynamic running back and three physical pass catchers, their packaged plays are particularly dangerous. One of their staples is an inside zone read where, based on the back-side edge player and linebacker, Cutler has the option to hand off to Forte, keep and run or throw.
The keys to defending option football are being in the right alignment and, more importantly, playing the right assignment. Back-side edge defenders who crash the mesh point will give up easy quarterback runs. Linebackers who get caught looking in the backfield will give up big plays on short passes.
If the Cowboys defense plays without discipline Thursday, the Bears will move the ball with ease.
Bottom Line
If the playoffs started Tuesday, the Cowboys would miss out again. With games against division-leading Philadelphia and Indianapolis coming up, Thursday's game is a must-win for Dallas.
The Bears defense is awful again and their offense has underperformed so far, but they're still potent enough to pull off an upset and threaten the Cowboys' playoff hopes. If Chicago's packaged plays work early, Dallas' defenders could spend the rest of the game in their heads and on their heels on the way to another late-season collapse.