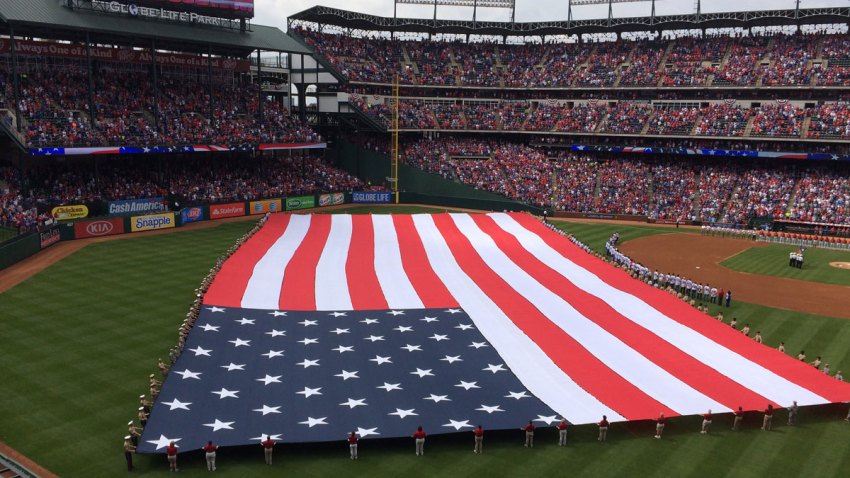 The following information was sent from the Texas Rangers Baseball Club.
The Texas Rangers host the Houston Astros in the home opener on Friday, April 10 at Globe Life Park in Arlington in a 3:05 p.m. start.
Friday Schedule
12:15 p.m.—Rangers Batting Practice
1:15 p.m.—Astros Batting Practice
2:43 p.m.—Texas Toss from Texas Governor Greg Abbott to Ivan Rodriguez
2:51 p.m.—Rangers Introductions
2:57 p.m.—National Anthem by U.S. Air Force Band of the West
3:00 p.m.—Ceremonial First Pitch by Retired United States Air Force Staff Sergeant Nicholas Bradley
3:07 p.m.—Game time, Astros vs. Rangers
TICKET SITUATION: Only scattered single tickets remain for Friday. All other seats and standing room have been sold.
Sports Connection
Connecting you to your favorite North Texas sports teams as well as sports news around the globe.
PARKING INFO: The Globe Life Park in Arlington cash parking lots will open at 9:00 a.m. on Friday. The Rangers will offer cash parking in the AT&T Stadium Lot 4 (west of A Lot) as well as the regular cash lots. In addition, Six Flags will be offering cash parking in their lots on Friday.
HOV RAMP: East and West bound HOV lanes will be available for Rangers traffic.
COME EARLY: The Rangers encourage fans to arrive early on opening day. All fans will be required to undergo Major League Baseball mandated metal detection screening before entering the ballpark this season. Globe Life Park in Arlington gates will open at 12 noon on opening day.
CEREMONIAL FIRST PITCH: Representing the programming and programs offered at the George W. Bush Presidential Center, Retired United States Air Force Staff Sergeant Nicholas Bradley will throw out the ceremonial first pitch for the home opener. Staff Sergeant Bradley, a participant in the Bush Institute's Military Service Initiative 2012 and 2013 Warriors Open, was deployed to Balad Air Force Base in Iraq, where he served with the 332nd Expeditionary Security Forces and flew more than 200 Surveillance Missions for troops outside the wire. He returned to the United States and completed several training courses over the next few years.
In April 2008, he deployed to Camp Eggers, Kabul, Afghanistan, where he served on a Personal Security Detail for five General Officers. Staff Sergeant Bradley conducted numerous Protective Missions outside the wire, including Motorcade Operations, Fly Away Missions and Advance Team Missions. On August 3, 2008, while on a Protective Services Mission, his vehicle was struck by 20 pounds of anti-tank mine IED. Staff Sergeant Bradley has had 16 surgeries and continues to attend occupational and physical therapy. He was medically retired from active duty on May 29, 2009. Staff Sergeant Bradley has been awarded numerous honors, including Airman of the Year and the Purple Heart. He currently attends the University of North Texas and is pursuing a degree in political science.
Catching the first pitch will be Rangers Assistant Hitting Coach Bobby Jones, who served 14 months in the U.S. Army in Vietnam from December 1969-February 1971 and received a Bronze Star Medal.
A TEXAS TOSS: The 48th Governor of Texas, Greg Abbott will be a participant in the opening day ceremonies prior to the contest between Major League Baseball's two teams from Texas. Governor Abbott, who was elected in November 2014 and took office on January 20, 2015, will make a "Texas Toss" prior to the introduction of the two teams to Rangers catching great and current Special Assistant to the General Manager Ivan Rodriguez. The "Texas Toss" will be immediately preceded by a live performance of Texas, Our Texas by Joel LaGrone.
NATIONAL ANTHEM: The Star Spangled Banner will be performed by the United State Air Force Band of the West from Lackland, TX Air Force Base. The Band of the West travels over 125,000 miles annually and provides hundreds of performances to military and civilian audiences throughout the South and Southwest.
SALUTE THE FLAG: A large United States flag will be unfurled in centerfield by Texas Rangers season ticket holders. That group will also unfurl the Texas State flag on Greene's Hill.
FLYOVER: Following the National Anthem, there will be a United States Air Force flyover. The 301st Fighter Wing, based out of Naval Air Station Fort Worth Joint Reserve Base, Texas, is an Air Force Reserve F-16 unit with approximately 2,200 Airmen. The wing has a rich history dating back to the mid-1940s. From flying the P-47 and P-51 during World War II to flying the Fighting Falcon F-16 today, the wing continues to make history. Since September 11, 2001, the men and women of the 301st Fighter Wing have deployed in support of various missions around the world from South America to East Asia and many countries in between. They are stationed locally, serving globally.
MORE ACTIVITIES: In addition to the introductions of the Astros and Rangers, former Texas Rangers players and coaches will also be introduced pre-game on-field. The Globe Life Park in Arlington crowd will be asked to join in and sing God Bless America during the seventh inning stretch. All fans, 21 years of age and older will receive a Rangers Budweiser Opening Day Magnetic Schedule as they enter the park.
HOME OPENER: Texas is 23-20 overall in home openers, losing to Philadelphia in 2014 to snap a 5-game winning streak…Texas is 11-10 in the opener at Globe Life Park in Arlington. This will be the first time that Houston has provided the opposition for a home opener. The Astros captured the 2014 Lone Star Series, 11-8, ending the Rangers' seven-year run of earning the coveted Silver Boot.
REST OF SERIES: The Rangers and Astros conclude the series with a 7:05 p.m. game on Saturday, April 11 and a 2:05 p.m. contest on Sunday, April 12. Good seats remain for both games. A Post-Game Fireworks Show follows the game on Saturday and the first 15,000 fans receive an AT&T Red Rangers Cap on Sunday.
Tickets for Rangers 2015 home games can be purchased at texasrangers.com, by calling 972-RANGERS, or at the Globe Life Park in Arlington first base ticket office.