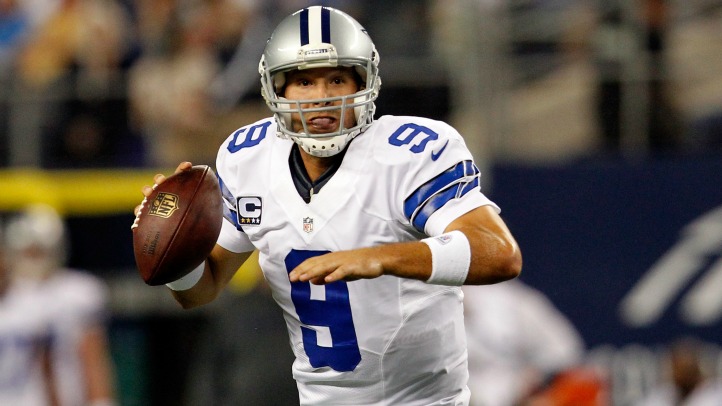 We're taking a look back at the 2012 season by analyzing the work done by all of the Cowboys position groups by themselves. The quarterbacks are up first.
The Players: Some fellow by the name of Tony Romo was the starter this season. He's never really gotten much media attention, so you may have missed it. Kyle Orton was the backup and Nick Stephens was signed to a futures contract.
2012 Performance: The book on Romo's career is exactly the same as the book on his 2012 season. Romo had a stretch of play in the second half that was as brilliant as anything anyone did in the league this year and he kept the Cowboys in the playoff race despite a dreadful start and injuries all over the defense. But he also flopped in Week 17 against the Redskins, extending the narrative of his inability to win big games, and threw 19 interceptions over the course of the season.
Sports Connection
Connecting you to your favorite North Texas sports teams as well as sports news around the globe.
Orton barely played, but the idea of him looming as an experienced backup made him seem like a worthy member of the squad.
Room for Improvement: Probably not as much as you might think or like. It's very easy to say that Romo has to be more conscientious or make better decisions or simply do something to win in Week 17 with the division on the line, but reality is what it is. Romo's had seasons with fewer picks and higher completion percentages, which all add up to distinctions without differences. What you see is what you get.
Chances of Improvement: Exciting, frustrating, inspiring and deflating. That was Romo then, that's Romo now and that will almost certainly continue to be Romo in the future. We'll put this as close to zero as possible, because Romo's almost certainly staying and because there aren't better options out on the table. The flip side of any groans about Romo is that it isn't like you can go to the corner and get a better quarterback. Just ask Chad Hutchinson and Quincy Carter.
Long-Term Outlook: Barring a coaching change that leads to a total gut of the franchise, it looks like Romo will be here and it is in the team's best immediate financial interests to extend his contract. Drafting a developmental quarterback in the middle or late rounds wouldn't be a bad idea.
Conclusion: The answer to the Cowboys' problems aren't going to come from Romo suddenly getting better. It's going to come from making the team around him good enough to survive the mistakes that you know are coming at some point. There's certainly enough good to work with for the Cowboys to win, it's just time for others to pick up some of the heavy lifting.
Copyright FREEL - NBC Local Media