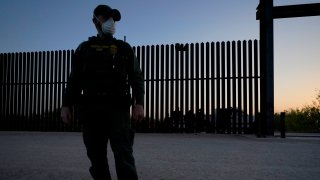 North Texas Congresswoman Beth Van Duyne (R-TX, District 24) is leading a delegation of GOP congressional leaders Tuesday to survey the continuing migrant crisis on the Texas-Mexico border.
A news release from Van Duyne's office said she and "members of the Texas Congressional Delegation are at the southern border to assess Biden's border crisis from McAllen, Laredo, and Carrizo Springs, Texas."
On Tuesday morning, the Congresswoman tweeted video apparently from the inside of a holding facility showing an untold number of people kept in close quarters.
On Monday, Van Duyne tweeted she was, "At the border doing what our new immigration czar VP Harris won't do- looking firsthand at the border. We have seen trafficked children, thousands of pounds of smuggled drugs and talked with border agents who begged our President not to set this tragedy in motion before it began."
That same day, Sen. Ted Cruz (R-TX) compared the conditions at the border to those in Dallas where 2,200 migrant teenage boys are being held at the city's Kay Bailey Hutchison Convention Center.
Texas Politics
Covering politics in the Lone Star State.
"Dallas today is on the front line of a crisis cascading across Texas and across the country," Cruz said. "When you gaze across a massive room with 2,200 teenage boys, it takes your breath away. It is tragic. it is horrific."
Cruz said the boys being housed in Dallas are sleeping on cots kept six feet apart and that the conditions in North Texas are better than at other facilities across the state.
More than 5,700 migrant children remain in custody, a new record announced Monday night.
In the tweet, Van Duyne was apparently surveying the Rio Grande Valley from the air where she was tethered to an aircraft with the back door open.
U.S. Border Patrol Chief Patrol Agent Brian Hastings tweeted Tuesday morning that the USBP had stopped eight failed human smuggling attempts in the Rio Grande Valley where they found more than 100 people who are believed to have crossed the border illegally.
The Congressional delegation is expected Tuesday to meet with local law enforcement, landowners, small business owners and health care providers and U.S. Customs and Border Patrol officials.
The group will survey the Maritime Boundary Line off the coast of Corpus Christi, the McAllen Drug Enforcement Administration's district office, the border wall, Port of Entry at Laredo and the Carrizo Springs Influx Care Facility.
Van Duyne is set to give remarks in an 11 a.m. news conference at Anzalduas Park in McAllen.
Those among the delegation include the following.
Rep. Beth Van Duyne (TX-24)
Rep. Jodey Arrington (TX-19)
Rep. Michael Burgess (TX-26)
Rep. Brian Babin (TX-36)
Rep. Louis Gohmert (TX-01)
Rep. Ronny Jackson (TX-13)
Rep. Pete Sessions (TX-17)
Rep. Randy Weber (TX-14)
Rep. Pat Fallon (TX-04)
Rep. Troy Nehls (TX-22)
Rep. Kevin Brady (TX-08)
Rep. John Carter (TX-31)
Rep. Chip Roy (TX-21)
Mark Morgan, former Acting Commissioner of the U.S. Customs and Border Protection
Tom Homan, former Acting Director of U.S. Immigration and Customs Enforcement
Brandon Judd, National Border Patrol Council President