Texas Gov. Greg Abbott (R) announced new proposals Thursday designed to keep police officers safer while working protests or riots.
"Today we are announcing more legislative proposals to protect our officers as well as do more to keep our community safe," Texas Governor Greg Abbott said.
Abbott said that while the U.S. Constitution guaranteed people the right to assemble peacefully, it did not provide the right to riot, rob, loot, set fires, or to harm anyone or anything.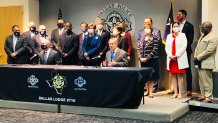 "Texas will always defend the first amendment right to peacefully protest, but Texas is not going to tolerate violence, vandalism, or rioting," Abbott said.
To that end, Abbott said he was proposing legislation that enhanced the punishment for several existing laws while criminalizing other acts, including:
Anyone causing injury or destroying property during a protest will face a felony with mandatory jail time.
Anyone striking an officer during a riot will face a felony with a mandatory sentence of six months in jail.
Anyone pointing lasers at police will face a felony with mandatory jail time.
Anyone blocking entrances or exits to hospitals will face a felony with mandatory jail time.
Anyone using fireworks will face a criminal charge and will include mandatory jail time.
Anyone who aids rioters with funds or organizational assistance will face a felony with mandatory jail time. This will also give the Office of the Attorney General power to pursue civil penalties against people and organizations.
Abbott said he wanted to make it abundantly clear that those who seek to harm police will not be walking the streets for at least six months.
Local
The latest news from around North Texas.
"We're tired of seeing all the rioters, they get arrested and 30 minutes later they're back on the street -- they can continue rioting that night," Abbott said. "We want to get them off the street, reduce the number of people involved in chaos to give peaceful protesters the opportunity to exercise their rights."
The governor said anyone charged with the above offenses would be required to be held in jail until their first court appearance.
"It will ensure that these dangerous rioters will not be immediately released on the streets to engage in further riots without first having to go before a court appearance," Abbott said.
Dallas Police Association President Michael Mata support the governor's proposals.
"It's that riotous act, that damage property that injure people, that burn police cars, that's tax dollars," Mata said. "That's your funding line that they are complaining about. That's our problem and that needs to be addressed."
Civil Rights Attorney David Henderson, who is representing protestors in civil violations cases, says Governor Abbott's announcement is about politics and not solutions.
"Why are we even dedicating time and resources to proposing meaningless laws that duplicate laws we already have on the books instead of looking for solutions that is going to help keep everyone safer and make society function better," Henderson said.
Abbott also criticized recent action taken by the Dallas City Council to cut overtime pay saying that it is often what pays protection at protests and that not having that funding available will result in fewer officers on the street.
In recent weeks, the governor has unveiled several policy proposals intended to punish cities that decrease the budgets of their police departments including limiting their ability to annex unincorporated areas into the city and by freezing property tax rates forever.
None of the governor's proposals are law -- they must all be passed during the 2021 legislative session.
The governor said Thursday about 90,000 Texans have signed his "Back the Blue" pledge, to oppose efforts to defund police departments in the state. Abbott said he hoped to have 100,000 signatures by the end of the month.
Check back and refresh this page for the latest information.