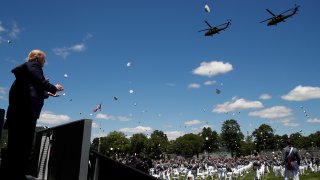 President Donald Trump is exaggerating his accomplishments for the military.
With his relationship with Pentagon leaders under strain, the president bragged to West Point cadets over the weekend that his administration wholly destroyed the Islamic State group. He also asserted in a televised interview that he completely rebuilt a depleted U.S. military.
Neither claim is true. The militant IS group in fact is still a threat, launching attacks in Iraq and Syria in recent weeks as it seeks to take advantage of governments absorbed in tackling the coronavirus pandemic. And a number of new Pentagon weapons programs began years before Trump became president.
His statements came in a week of law-and-order rhetoric mixed with heavy doses of misinformation as he stretched to blame unrest on radical leftists and to put three loaded words — "defund the police" — in the mouth of a Democratic rival who doesn't support them.
Both Defense Secretary Mark Esper and Gen. Mark Milley, the chairman of the Joint Chiefs of Staff, have sought to distance themselves from the president following his warning that he could use active-duty military forces to clamp down on protests spurred by George Floyd's death in police custody.
A look at recent claims and the facts:
MILITARY
The Trump Administration
The latest news on Donald Trump's presidency
TRUMP: "The savage ISIS caliphate has been 100% destroyed under the Trump administration." — remarks Saturday at West Point graduation ceremony.
THE FACTS: His claim of a 100% defeat is misleading as the Islamic State group still poses a threat.
IS was defeated in Iraq in 2017, then lost the last of its land holdings in Syria in March 2019, marking the end of the extremists' self-declared caliphate. Still, extremist sleeper cells have continued to launch attacks in Iraq and Syria in recent weeks and are believed to be responsible for targeted killings against local officials and members of the Syrian Democratic Forces.
The recent resurgence of attacks is a sign that the militant group is taking advantage of governments otherwise focused on the pandemic and the ensuing slide into economic chaos. The virus is compounding longtime concerns among security and U.N. experts that the group will stage a comeback.
Defense Secretary Mark Esper has said the U.S. fight against the group was continuing.
___
TRUMP: "I have rebuilt our military." — interview aired Friday on Fox News.
THE FACTS: That's an exaggeration.
It's true that his administration has accelerated a sharp buildup in defense spending, including a respite from what the U.S. military considered to be crippling spending limits under budget sequestration.
But a number of new Pentagon weapons programs, such as the F-35 fighter jet, were started years before the Trump administration. And it will take years for freshly ordered tanks, planes and other weapons to be built, delivered and put to use.
The Air Force's Minuteman 3 missiles, a key part of the U.S. nuclear force, for instance, have been operating since the early 1970s and the modernization was begun under the Obama administration. They are due to be replaced with a new version, but not until later this decade.
___
TRUMP: "When we took it over from President Obama and Biden the military was a joke. The military was depleted. ... We had no ammunition." — Fox interview.
THE FACTS: The U.S. doesn't go to war without sufficient ammunition. Trump often repeats this claim, typically attributing it to unidentified generals. But it's not true no matter how it is said.
At most, budget constraints may have restricted ammunition for certain training exercises at times and held back the development of new forms of firepower. But the military doesn't just run out of bullets.
---
Seitz reported from Chicago. Associated Press writer Bill Barrow in Atlanta contributed to this report.
Copyright AP - Associated Press