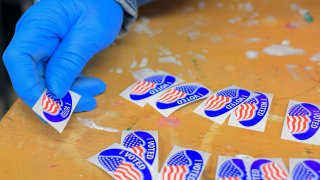 ---
Election Results Pages:
Special Election: U.S. Rep. Dist. 6
By County: Collin | Dallas | Denton | Tarrant
Propositions: School Bonds | Municipal Props
All Races: Alphabetical Listing
---
Fort Worth and Arlington aren't the only cities in North Texas electing new mayors on May 1. More than three dozen cities and towns will vote on who'll be the next to lead their city.
A complete alphabetical list of results for mayoral elections being held in Dallas, Collin, Denton and Tarrant counties can be found below.
While candidates may be affiliated with political parties, mayoral elections are nonpartisan. Incumbents are marked with (I).
Results will be available after 7 p.m. on Election Day.
Addison
Joe Chow (I)
Unopposed
Double Oak
Von Beougher
Unopposed
Krum
Ronald G. Harris Jr (I)
Unopposed
Lakeside
Patrick Jacob (I)
Unopposed
Nevada
Benito Ponce
Unopposed
Oak Point
Dena Meek
Unopposed
Pantego
Doug Davis (I)
Unopposed
Richardson
Paul Voelker (I)
Unopposed
Saginaw
Todd Flippo (I)
Unopposed
Seagoville
Dennis K. Childress (I)
Unopposed
Shady Shores
Cindy Aughinbaugh (I)
Unopposed
Sunnyvale
Saji George (I)
Unopposed
Westworth Village
L. Kelly Jones (I)
Unopposed
A list of all races, listed alphabetically, can be found here.
County Election Pages
For other race results throughout North Texas, county election pages can be found here: Anderson, Bosque, Comanche, Collin, Cooke, Dallas, Delta, Denton, Ellis, Erath, Fannin, Freestone, Hamilton, Henderson, Hill, Hood, Hopkins, Hunt, Jack, Johnson, Kaufman, Lamar, Navarro, Palo Pinto, Parker, Rains, Red River, Rockwall, Somervell, Tarrant, Van Zandt, Wise.