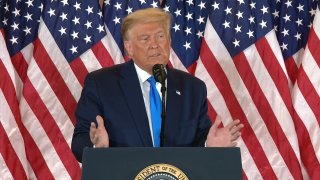 ---
Election Results Pages:
Federal, State: U.S. President | U.S. Senate/House | Texas, State Judicial Races
By County: Collin | Dallas | Denton | Tarrant | Other
---
President Donald Trump again carried the Lone Star State, Republican Sen. John Cornyn easily won reelection and Democrats, who believed this was finally their year to end decades of losses and even seize a majority in the state House, instead had virtually nothing to show for an election that was on the brink of surpassing 11 million voters by early Wednesday.
Former Vice President Biden held a slim 45,000 vote lead in the state early Tuesday evening, but even then the vote was tied percentage-wise at 50/50. With 53% tallied at about 9:15 p.m., Trump had taken a 2 point lead that within the next hour would double to 4%. At 11:30 p.m., 78% of the vote had been tallied showing Trump's lead had grown to 6 points, or by roughly 600,000 votes.
Just after midnight, NBC News called the Lone Star State for Trump, who held a lead of more than 600,000 votes.
In 2016, with 15,101,087 registered voters in the state of Texas there were 8,969,226 votes cast -- a turnout of 59.39%. Of those nearly 9 million votes, 4,685,047 went to Republican Donald Trump while 3,877,868 went to Democrat Hillary Clinton. Libertarian Gary Johnson received 283,492 votes while Green Jill Stein received 71,558 votes. The remaining ballots went to 13 write-in candidates.
We are showing the results for the race for the White House in a number of ways. Above, an NBC News graphic shows the Electoral Votes needed by each candidate to secure the election. A total of 270 votes are needed to secure a win.
In the group of results below, the race for president can be seen using election returns supplied by the Associated Press. Results are displayed by national popular vote and the Texas popular vote which is then displayed on a color-coded map. Below the first map are popular vote totals from Collin, Dallas, Denton and Tarrant counties. At the bottom, you can explore how Texans have historically voted in each county in presidential elections dating back to 1992.
A more detailed analysis of county-by-county voting can be found below.
Live Election Results
Source: AP
In 18 days last month, more than 9.7 million Texans cast ballots and smashed previous records for early voting while setting the stage to set more records for total turnout through Election Day, Nov. 3. According to the Texas Secretary of State, more than 9.7 million people voted early, representing 57.3% of Texas' 16.9 million registered voters.
NBC 5 is providing results for nearly 400 races up for election in North Texas on Nov. 3, 2020. Links to those races can be found below.
Decision 2020 Election Results
The results of nearly 400 races can be seen in the pages below, sorted by category and county.
County Election Pages
For other race results throughout North Texas, county election pages can be found here: Anderson, Bosque, Comanche, Collin, Cooke, Dallas, Delta, Denton, Ellis, Erath, Fannin, Freestone, Hamilton, Henderson, Hill, Hood, Hopkins, Hunt, Jack, Johnson, Kaufman, Lamar, Navarro, Palo Pinto, Parker, Rains, Red River, Rockwall, Somervell, Tarrant, Van Zandt, Wise.