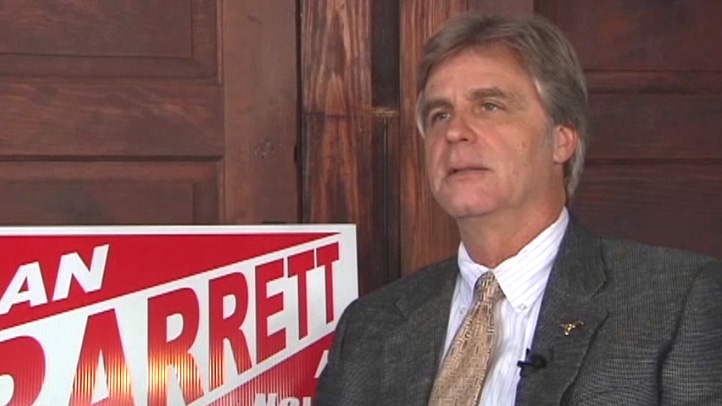 Dan Barrett is one of the five Fort Worth mayoral candidates and a familiar name for some residents in southwest Fort Worth. Barrett represented the 97th district in the state house from 2007 to 2009, has practiced law in Fort Worth for 32 years and is now running for mayor.
"I'm the only candidate who has the political will to change business as usual at city hall," Barrett said during an interview with NBCDFW.
Barrett says he has been less than thrilled with decisions made at city hall lately, which is why he is running. His biggest concerns have to do with the city budget and spending priorities.
Politics
Politics from around the world.
"We had a big budget deficit last year in our general fund, $77 million," Barrett said. "And we respond to that by doing things like closing the public swimming pools, and after we do that, we pave the parking lot."
Barrett, who represents cities and school districts in his law practice, says the city needs to go through extensive audits to root out any systematic spending problems.
"There is no explanation for the gaps we see in our budget," he said. "We recently completed an audit of the last five years or so and in one of those audits we discovered a $5 million black hole. There's no explanation for where the money went, it's just missing. We still don't know where it is, those kinds of things are completely unacceptable."
On the issue of pensions, where the city is running a $700 million unfunded liability, Barrett says fire and police unions must work with the city to resolve the difference.
"And if that group does not take part in the solution to the problem, then we are in serious, serious trouble," Barrett said. "People call me an alarmist sometimes because of that, my attitude toward it is, well, that's because I'm alarmed."
On the issue of gas drilling and air quality, Barrett says the city should look at requiring green completion techniques. He suspects that the air quality report due out in June won't have good news and that if the by-product of the gas drilling could have health impacts on residents, changes need to be made.
On education -- something the mayor and council have no jurisdiction over, yet it's become a topic of conversation in the race -- Barrett says the council should meet with area school boards so that they are all on the same page. He also believes the council should look to re-fund some of its after school programs that were impacted by recent budget cuts.
"Those are things that I think need to be assigned higher priority in our spending," Barrett said. "And so, no, I'm not happy with business as usual, for those reasons and many others."
While municipal elections have historically low turnouts, Barrett is confident his message of fixing things at city hall is taking hold and a run-off won't be necessary.
"If the number of people who voted for me in just the city of Fort Worth in my loss in 2008 turn out and vote for me in this election, I'd win without a run off," Barrett said. "So that gives me a pretty good base."
---
We are just a few weeks from election day and the Fort Worth mayor's race. Throughout the week we'll introduce you to the five candidates vying to lead the second largest city in North Texas and where they stand on issues like the budget, air quality and education.
Previous interviews:
Dan Barrett | Cathy Hirt | Jim Lane | Betsy Price |Nick Zebrun