What to Know
Substitute teacher Ruth Reed was just trying to help the guy in front of her in line at the Medford, New Jersey, Wawa pay for his items.
Reed told the man she helped that he looked like country music star Keith Urban. "It was then I realized what an idiot I was," she said.
A spokesperson for Wawa said they were "thrilled" by the story.
A woman who thought she was helping a down-and-out man pay for his food at a New Jersey Wawa ended up footing the bill for country music star Keith Urban.

Ruth Reed says she met Urban at a Medford Wawa ahead of his concert Friday night in Camden.

Substitute teacher Reed says she had made a resolution to help Wawa customers and jumped at the chance when the man ahead of her was short a few dollars.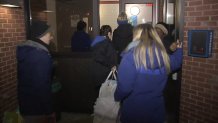 Copyright AP - Associated Press