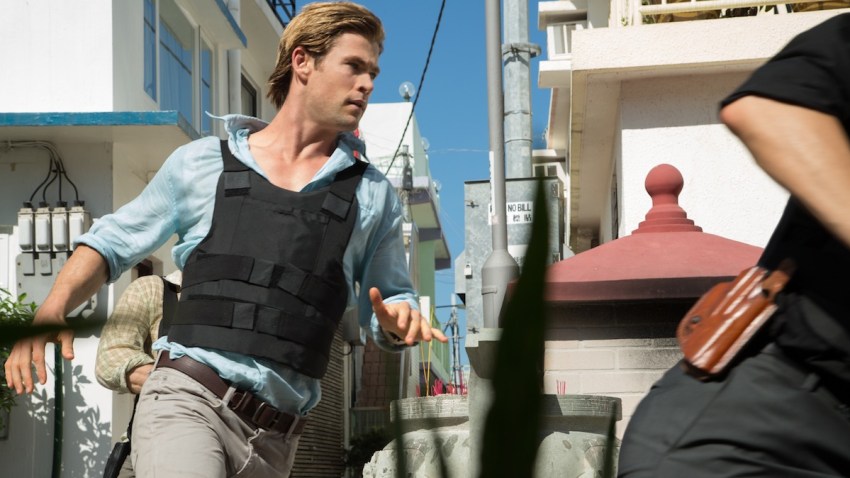 Movie fans will have to wait until spring for the first blockbusters of 2015 to hit theaters, but that doesn't mean winter at the cineplex lacks awesome new movies to suit all tastes.
Packed with action ("Taken 3," "Jupiter Ascending," "Seventh Son"), comedy ("Mortdecai," "Wedding Ringer," "Hot Tub Time Machine 2"), a little kink ("50 Shades of Grey"), intrigue ("Blackhat," "The Boy Next Door") and kid-friendly fare ("SpongeBob Movie: Sponge Out of Water," "Strange Magic," "Paddington"), there are enough winter movie releases to have you at the theater every cold-weather weekend until March.
"Taken 3"
Liam Neeson returns as ex-covert operative Bryan Mills who must once again go on the offensive when he is framed for the brutal murder of his ex-wife With the CIA, FBI in pursuit, he must hunt down the killers and protect his daughter. (January 9)
"Blackhat"
People's sexiest man alive Chris Hemsworth stars as furloughed convict Nicholas Hathaway in this Michal Mann-directed action-thriller about American and Chinese forces banding together to hunt down an international cybercrime network. (January 16)
[[79432027, C]]
"Paddington"
Everyone's favorite bear with a penchant for marmalade arrives on the big screen in this live-action/CGI remake of the classic children's tale about finding where in the world you fit in. (January 16)
"Still Alice"
Julianne Moore plays college linguistics professor and mother of three grown children Alice Howland who must face an uncertain future when diagnosed with early onset Alzheimer's disease. (January 16)
"The Wedding Ringer"
Two weeks before marrying the girl of his dream, socially awkward Doug Harris (Josh Gad) enlists the services of Best Man Inc., a company that provides groomsmen for those lacking. Company owner Jimmy Callaghan (Kevin Hart) takes on the job in this wedding day comedy of errors. Also starring Kaley Cuoco Sweeting. (January 16)
"The Boy Next Door"
Jennifer Lopez returns to big screen acting in this psychological thriller about a newly single mom who develops an attraction to the teenage boy next door (Ryan Guzman) who hides a deadly secret. (January 23)
"Mortdecai"
Renowned art dealer Charles Mortdecai (Johnny Depp) searches for a stolen painting that's rumored to contain the code to a bank account filled with Nazi gold. Gwyneth Paltrow, Olivia Munn, Paul Bettany and Ewan McGregor also star in this comedy send up. (January 23)
"Strange Magic"
Inspired by Shakespeare's "A Midsummer's Night Dream," this animated tale shows what happens when goblins, fairies, elves and imps meet for the first time and battle over a powerful potion. (January 23)
"Black or White"
A grieving widower (Kevin Costner) goes to court to fight for custody of his biracial granddaughter. Octavia Spencer also stars in this story of grandparents who must confront their feelings about race, family and forgiveness. (January 23)
"Jupiter Ascending"
From the fertile minds of the Wachowski siblings ("The Matrix" trilogy) comes this futuristic tale of a young destitute human woman (Mila Kunis) who discovers her rightful place in the hierarchy of the universe. Channing Tatum stars as the genetically altered interstellar hunter on her trail. (February 6)
"Seventh Son"
This tale of swords and sorcery features Julianne Moore as a once-thwarted evil witch who escapes imprisonment and returns to wreak havoc. Jeff Bridges is the wise master who must ready Ben Barnes, his new apprentice, in order to battle the rising tide of dark magic. (February 6)
"The SpongeBob Movie: Sponge Out of Water"
When the secret Krabby Patty recipe is stolen by a pirate, SpongeBob, Patrick and company must leave their undersea home and journey onto to dry land in their quest to retrieve it. (February 6)
"Fifty Shades of Grey"
The international best-selling erotica novel by EL James is brought to the big screen in this adaptation starring Dakota Johnson as college graduate Anastasia Steele who begins a fetishistic relationship with business magnate Christian Grey, played by Jamie Dornan. (February 13)
[[287810411, C]]
"Kingsman: The Secret Service"
Gary "Eggsy" Unwin (Taron Egerton) is given a second chance when he discovers his late father was a secret agent, and now his dad's organization wants to recruit him. Colin Firth and Samuel L. Jackson star in this action-comedy from "Lock, Stock and Two Smoking Barrels" director Matthew Vaughn. (February 13)
"Cinderella"
Disney gives their classic tale of rags to riches love a live-action update in the remake starring lily James in the titular role, Cate Blanchett as the evil stepmother and Helena Bonham Carter as the Fairy Godmother. (February 15)
"The Gunman"
Sean Penn plays a former special forces operative who must go on the run across Europe in order to clear his name. (February 20)
"Hot Tub Time Machine 2"
The gang (Rob Corddry, Craig Robinson and Clarke Duke, minus John Cusack) returns to the magical hot tub in order to travel 10 years into the future to prevent an unknown assailant from shooting Lou. (February 20)
"Focus"
Veteran con artist Nicky (Will Smith) takes novice grifter Jess (Margot Robbie) under his wing in this tale of love, crime and double-crossing gone awry. (February 27)