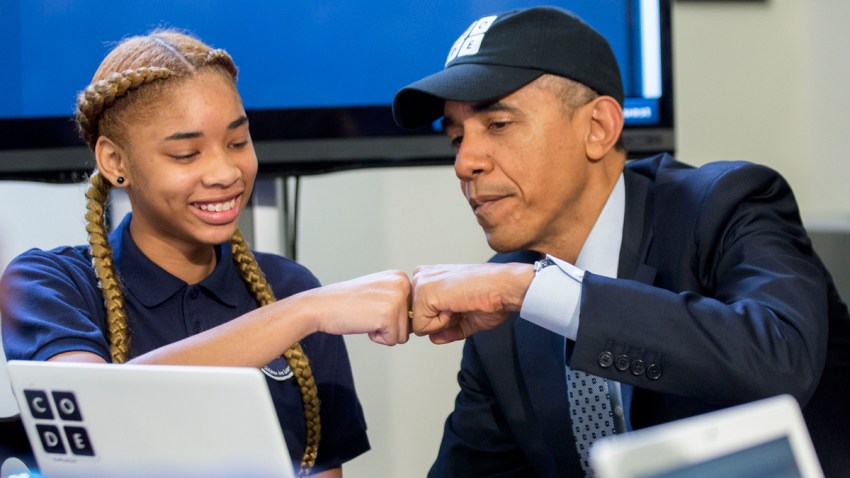 President Barack Obama has his own Facebook page now.
The White House launched the page on Monday, sharing a video of the president taking a stroll in White House's backyard — which, as Obama pointed out, is also a national park — and calling for action on climate change.
"Hello, Facebook! I finally got my very own page," Obama said in a post that accompanied the two-minute video. "I hope you'll think of this as a place where we can have real conversations about the most important issues facing our country – a place where you can hear directly from me, and share your own thoughts and stories."
On his backyard tour, Obama talked about the fox, the hawk and the squirrels that roam the south lawn. He then made a statement about climate change.
"I hope you'll join me in speaking out on climate change and educating your friends about why this issue is so important," Obama said in his post. "At a time when nearly three in four adults online use Facebook, this feels like a great place to do it."
Though you can't become the president's "friend" on Facebook, you can expect plenty of posts on serious policy matters. Obama also promised "some just-for-fun stuff, too."
The page's cover photo shows the president on what appears to be a boat tour to see the effects of global warming in Resurrection Cove in Seward, Alaska, on Sept. 1, 2015.
The "About" section of the page reads, "Dad, husband, and 44th President of the United States. Comments and messages received through this account may be archived: wh.gov/privacy."
The page also includes highlights and milestones from Obama's life, including his marriage to Michelle Obama in 1992 and getting sworn in as U.S. senator in 2005 and then as 44th president of the U.S. four years later.
Nearly an hour after its launch, the page was "liked" more than 20,000 times.
Earlier this year, Obama officially joined Twitter, sending out his first tweet on May 18.
"Hello, Twitter! It's Barack. Really! Six years in, they're finally giving me my own account," Obama wrote.