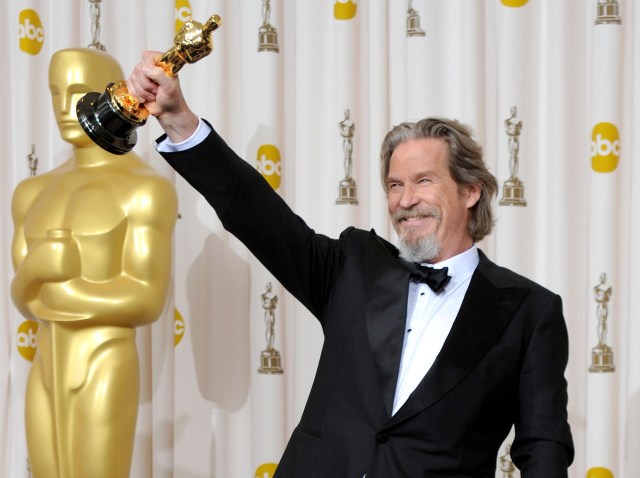 Like everything else Oscars, the backstage media room is first class, once you get through security reminiscent of the beginning of "Get Smart."

Whether it's the glamorously-gowned reporter next to you banging out copy in Portuguese or the amazing buffet (shrimp and bow-tie pasta in a vegetable pesto sauce), you know you're in the Big Show. And while you might not be swigging champagne with the Oscar-winners in the bar next to the auditorium, there is a sense of being a part of movie history as the still-celebrating stars venture backstage. We honor the highlights with additional awards.

Most Grateful Recipient: Jeff Bridges -- there's a guy that knows how to celebrate a the hardest-earned Cinderella story ever. Bridges wandered backstage holding a glass of champagne in one hand and his Oscar in the other. He literally talked about his award bringing about world peace and actually almost got away with it with his sincerity. "Because, really, movies are more than just entertainment, they are connecting us, you know," he said silencing the snickers. The Dude would have been proud.

Biggest Control Freak: Mo'Nique -- Every other award winner was happy to allow a press room moderator to pick out the questioners based on a fairly democratic system of acknowledged waved number-cards. But Mo'Nique wasn't having that -- she was insistent on finding her people in the audience to ask questions, even if it came to awkwardly overruling the Academy moderator on several occasions. Guess who won that battle? Answer: the woman holding the gold statue. "I have to go to the people I have to go to," Mo'Nique explained as she ignored another moderator-set question and went to one of her faves, "because they were the ones that came to me when no one did." Hey, it's her night!

Most Troubling Foreign-Language Performance: Christoph Waltz -- The classy Waltz was a victim of the German-speaking press corps who occupied most of his time backstage with questions they insisted he answer in his native tongue. This exercise went so long that an answer that started with "I'm switching to English now" brought about a rousing round of applause.

Best Classy Dodge of a Question: Kathryn Bigelow -- Bigelow is used to answering questions about ex-husband James Cameron, but was perhaps surprised by one question on the night of her historic directing achievement. She was asked what she learned while living with Cameron while they were married. As the room hissed about the question, Bigelow gave a diplomatic step away. "I think Jim is very inspiring, and I think he inspires filmmakers around the world," she said. "and for that I think I can speak for all of them. We're quite grateful." Just like in "The Hurt Locker," making a statement without taking sides.