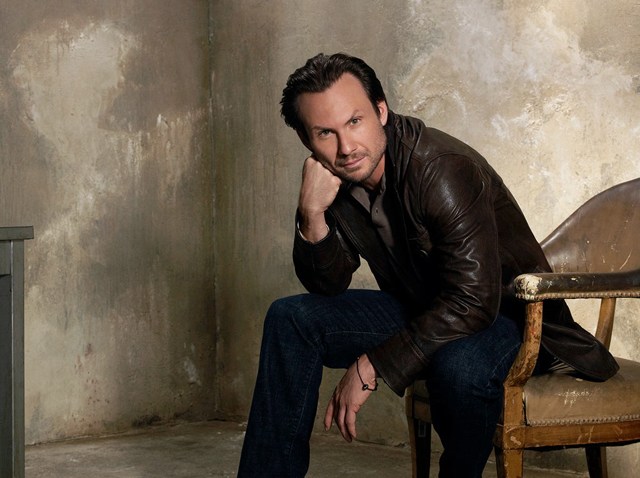 Welcome to Watch List, where we identify five things on TV to watch while you stay at home and pick the sand out of your bubble gum. LET'S GO!

BREAKING IN – 9:30PM (FOX) After fizzling on NBC's short-lived "My Own Worst Enemy," Christian Slater is back again on network television for another go round. This time, he's running a security firm that helps clients find their vulnerabilities by… you guessed it… robbing them. This is not to be confused with the movie "Breaking In," which was made in 1989 and starred Burt Reynolds as a bank robber and Casey Siemaszko as his young apprentice. I never saw that film, and yet I think back on it fondly. Likely because I never saw it. Anyway, tune in to see if Christian can break into a safe by getting drunk and trying to bite through the door. ANTICIPATION: SLATER!

TOP CHEF MASTERS – 11:00PM (Bravo – an NBC/Universal network) One week after Richard Blais won the marathon "All Stars" season, there's a whole other "Top Chef" ready to go. Former hostess Kelly Choi is out, now replaced by Curtis Stone of "America's Next Great Restaurant." And new to the judging panel this time is Ruth Reichl, who is a very good writer but can be… very… slow… on… camera. Anyway, as food porn goes, you'd be hard pressed to beat this show. Or even emulsify it. ANTICIPATION: FOODIES!

GLAMOUR BELLES – 10:00PM (Lifetime) Lifetime's new reality show documents the comings and goings at a pageant dress shop in Tennessee. And you always want to be wary of living anywhere that can eagerly support a pageant dress economy. ANTICIPATION: CREEPY!

EXTREME COUPONING – 9:00PM (TLC) Another new show! Can we make it five for five today? This one profiles people who go to great lengths to find bargains, including a Maryland woman who got $2,000 worth of groceries for just $100. Unfortunately, those groceries consist entirely of the little decorative pickled pepper jars they sell at TJ Maxx. You ever see those things? I wouldn't eat those peppers in a zillion years. ANTICIPATION: GREAT DEALS ON PAGEANT DRESSES!

TORI & DEAN: sTORIbook WEDDINGS – 10:00PM (Oxygen) And we're a perfect five-for-five with series premieres this evening. I hope you're excited to watch Tori Spelling and her husband plan dreams weddings for people who clearly couldn't afford a wedding planner. And yes, the capitalization of the show above is correct. I'd like to declare a moraTORIum on such desecrations of the common tongue. ANTICIPATION: TORI-IFFIC!