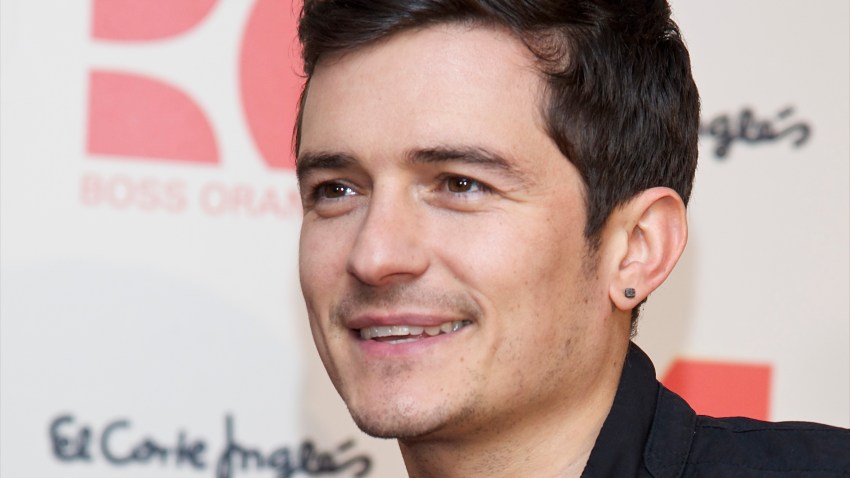 Get the platinum hair extensions ready: Orlando Bloom is likely to reprise his "Lord of the Rings" role of elven warrior Legolas for "The Hobbit."
Bloom tells PopcornBiz the deal is almost done for him to return to the role of the centuries-old elf archer from J.R.R. Tolkien's fabled trilogy for director Peter Jackson's two-part film adaptation of the prequel novel featuring Bilbo Baggins.
"Yeah, it's looking like that," says Bloom. "I'm really excited about going to see Pete again. It's still a little up in the air, but the idea of working with Pete is fantastic. I can't actually really talk too much about it, at this point. I just was given the script to piece through, so it's quite exciting."
"I just have to grow my hair really long and blonde again," he chuckled.
Although the character of Legolas does not appear in Tolkien's original novel, there's been much discussion that some kind of framework has been developed to include characters – and actors – which have been featured in Jackson's "LOTR" films. Already confirmed to quest along with Martin Freeman as the young Bilbo Baggins are key players Ian McKellan (Gandalf) and Andy Serkis (Gollum – as well as serving as second unit director), along with Elijah Wood (Frodo Baggins), Cate Blanchett (Galadriel), and Christopher Lee (Sarumon, and possibly the voice of the dragon Smaug). Hugo Weaving (Elrond) and Ian Holm (the older Bilbo) are also said to be in talks to rejoin Jackson.
Meanwhile, Bloom is looking forward to simply being an audience member for this summer's next installment of that other little franchise he previously starred in – "The Pirates of the Caribbean." "It'll be great," he says. "I've had such a great run with them."
While he's not finished with working on potential blockbusters, Bloom says in the wake of two mammoth smashes he found himself more than hungry for roles that would allow him to challenge himself, like the self-aggrandizing aspiring rock star The Stain in "Sympathy for Delicious," actor Mark Ruffalo's directorial debut.
"I was coming from a place of desperation," he admits. "I was desperate for an opportunity to break out of a preconceived idea of who I was as an actor, based on finding myself in two of the biggest trilogies of movies of all time. It was about making big movies and not having really had the opportunity to do some of the small, interesting, different movies, where you do get to break out."
"When you're 21 and you find yourself in one of the biggest trilogies of all time, and then you're 24 and you're in the next biggest trilogy of all time, you have no sense of which way is up," he reveals, "instead of going, "What does this actually mean to me? What do I want to be doing? How do I want to be perceived? What do I want from my career?" All of that stuff comes in when you have the time to settle and think about it, which is what I'm doing now."
Bloom says Ruffalo's film is merely the beginning of a fresh new career course ahead. "I produced a little movie called 'The Good Doctor,' which we're taking to Tribeca – that's a really twisted, dark turn for me," he says. "It was a really interesting thing to try. It shows the darker side and the shadow self, as it were. And, when 'The Three Musketeers' came along, the Duke of Buckingham was a fantastic role because it's a completely different thing for me, as opposed to being a Musketeer. I got to be the giant petulant child, in many ways, that the Duke of Buckingham turns out to be. So I'm really embracing the other side and shifting the perception. I actually had no idea how hard it would be to shift the perception, and that's really what it's been about."