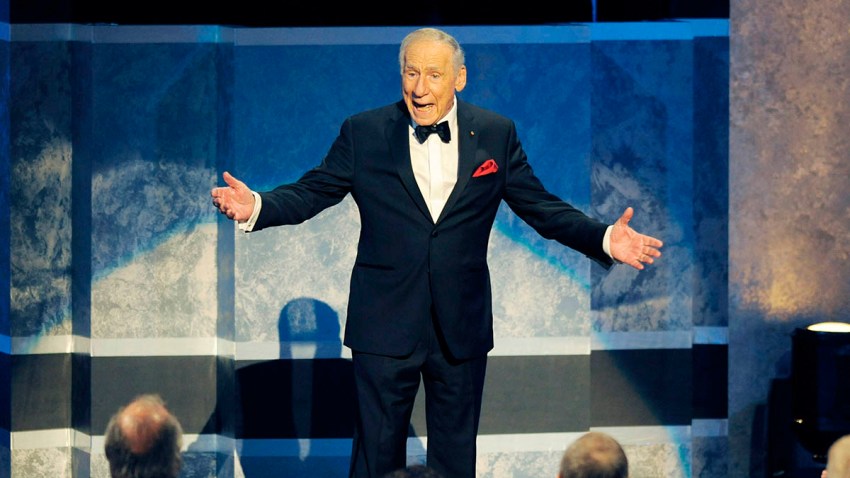 "Spaceballs 2: The Search for More Money" may actually make its way to the silver screen.
Mel Brooks, the director, co-writer and star of the cult 1987 space opera parody "Spaceballs," is thinking about making a sequel, he said on Adam Carolla's podcast Take a Knee last week.
In "Spaceballs," swashbuckling mercenary and hero Lone Star, played by Bill Pullman, asks one of Brooks' characters, Yogurt, a Yoda-like guru, if they'll ever see each other again. Yogurt tells Lone Star, "Who knows? God willing, we'll all meet again in 'Spaceballs 2: The Search for More Money.'"
NEWS: All the latest about the "Independence Day" sequel!
"And I'm thinking now, if I said, if I did a movie that came out right after Star Wars comes out, you know, maybe a couple of months later, Spaceballs 2: The Search for More Money, I'd have a big weekend, you know, no matter what, even if it fell on its ass and you know, didn't get that money back," Brooks told Carolla.
Brooks was referring to J.J. Abrams' upcoming movie "Star Wars: The Force Awakens," set for release on Dec. 18, which marks the franchise's first film in 10 years and the start of its third trilogy.
"But that first weekend, the anticipation of seeing 'Spaceballs 2,' would, you know...I still have Daphne Zuniga and I still have Rick Moranis if he'd do it, and I've still got me," Brooks said.
NEWS: This beloved '80s movie is getting a Disney Channel remake
Zuniga, who played Lone Star's love interest Princess Vespa (a spoof of Princess Leia) has not commented. Nor has Pullman.
Moranis, who played the Darth Vader-like Dark Helmet, and who is also known for roles in movies such as "Ghostbusters" and "Honey, I Strunk the Kids," stopped acting onscreen in the mid-'90s, several years after his wife died of cancer. He became a stay-at-home dad to their two kids. He has since done some voiceover work and has also released music albums.
Moranis said in a 2013 interview with Heeb magazine that Brooks initially wanted to make a "Spaceballs" sequel after the film became a cult video hit.
"And my idea for it was 'Spaceballs 3: The Search for Spaceballs 2,'" Moranis said. "And I was unable to make a deal with Mel. I couldn't make a deal.
[NATL] u0022Star Warsu0022 Costume Exhibit
"I wasn't privy to what the budget was or anything, but the deal he presented me, what he wanted me to do, was not workable," Moranis added. "It was two or three years later. He wanted me to...it's better if I don't get into the particulars of it. Because it is so specific, it's counter-productive to talk about it. But I was unable to make a deal, and it would have been something I would have wanted to do. But that ship has sailed."
Brooks, who also played the villainous President Skroob, was also asked about a "Spaceballs" sequel in a 2014 interview with Parade magazine.
"Without Rick, I wouldn't do it," he said. "I've got the helmet in storage, just waiting for him. It'll fit nobody else. Rick is five-five-and-a-half. It's a perfect fit for the big helmet. He was such a genius.
PHOTOS: Ghostbusters cast reunites after 30 years!
"Tom [Meehan], who wrote it with me, has great ideas and I would love to do 'Spaceballs 2,'" Brooks added. "We even have the title because in 'Spaceballs' I said, 'Maybe we'll do "Spaceballs 2: The Search for More Money."' That's what I would call it. It's the perfect title. I think it would take somebody like you to get Rick out of retirement. I've asked him plenty of times and he's been really strict about it."
Three cast members are, sadly, deceased: John Candy, who played Lone Star's sidekick Barf, a half-man-half-dog, or "mawg." (He's his own best friend.) The actor, also known for playing the title role in "Uncle Buck," died at age 43 in 1994. Joan Rivers, who provided the voice of the sassy, C-3PO-like android and handmaiden Dot Matrix, died at age 81 in September. Dom DeLuise, who played the (delicious) villain Pizza the Hut, died at age 75 in 2009.
"What a great, great, big guy, a big talent," Brooks said on Carolla's podcast, about Candy, adding, "I used to hide candy all over the set and he'd find it."
Rivers, Deluise, Zuniga and Brooks were the only original cast members to reprise their roles in "Spaceballs: The Animated Series," which aired on G4 for one season, starting in 2008.
While a "Spaceballs" movie sequel remains possible, merchandise still does not. (That means no "Spaceballs"-themed flamethrowers, wedding cake toppers, or Cracker Jack rings of the Schwartz.)
This is due to a deal Brooks had made with "Star Wars" creator George Lucas after obtaining permission to release a parody of his iconic original trilogy.
"I wasn't allowed to do any merchandising. Even though my character said, 'Merchandising, merchandising, the thing that really makes money.' I wasn't allowed to do that," Brooks told A.V. Club in 2012. "Fox and Lucas were making a fortune, and this really, you know, was stealing. I stole a lot, and I satirize it, but the script was different."
"He wrote me a lovely note saying me how much he loved the picture," he added about Lucas. "He said it's dangerous comedy. He said, 'I was afraid I would bust something from laughing.'"
PHOTOS: The Soup presents Cloudy With a Chance of Spaceballs
Copyright E! Online