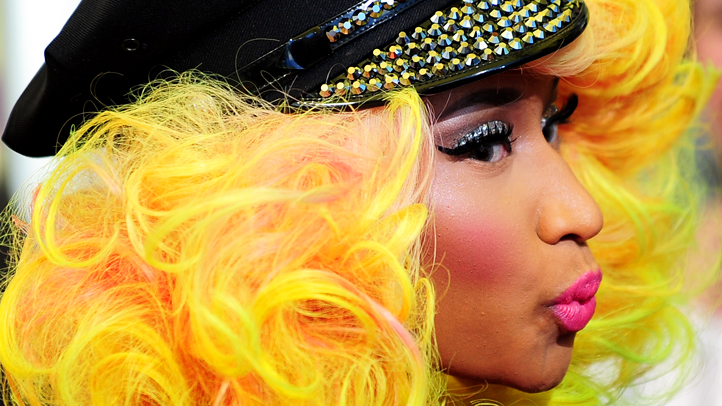 A former wig designer for rapper Nicki Minaj sued the performer Friday, accusing her of walking away from business plans, then making money by selling wigs based on his designs without permission.
The lawsuit filed by Terrence Davidson accuses Onika Maraj, who uses the stage name "Nicki Minaj," and Pink Personality LLC of breaking implied contracts, reneging on discussions to launch a reality TV show and a wig line, and misappropriating his wig designs. An attorney for Davidson, Christopher Chestnut, said the designer has suffered at least $30 million in losses.
"She lied, cheated, she stole from him," Chestnut said. "That's a misappropriation of his intellectual property."
A representative for Minaj did not immediately return a message seeking comment. The lawsuit was filed in U.S. District Court in Atlanta.
Davidson, who lives in Georgia, said in the lawsuit that he started working as Minaj's hair stylist in early 2010. He created multiple wigs for the rapper, known for her flamboyant hairpieces, that she wore to a preshow for MTV's Video Music Awards, during media appearances in London and for the music video "SuperBass."
Davidson said he turned down a contract for a reality TV show at the urging of a Minaj representative. At the time, Davidson said he was discussing doing a joint reality TV show with Minaj and launching a line of wigs with the music star. But months passed, and Davidson said Minaj and her team shut him out. He stopped working as her stylist in early 2013.
He says Minaj took his wig designs without his consent and used them to start her own wig line.
The lawsuit arrives a week after Minaj came under fire for using a famous photo of Malcolm X with a rifle in his hands and juxtaposing it with a racial slur for her new song.
Minaj posted the photo on her website and Instagram page, and received criticism for how she used the Malcolm X image. It's for her new song "Lookin (Expletive) (Expletive)." The title uses the N-word.
After she was roundly criticized on social media circles and beyond for what many saw as disrespect to a revered icon, she offered an apology Feb. 13 on Instagram to the estate of Malcolm X — who was assassinated 49 years ago this month at age 39.
She also said that the song's artwork "is in no way to undermine his efforts and legacy."
Copyright AP - Associated Press