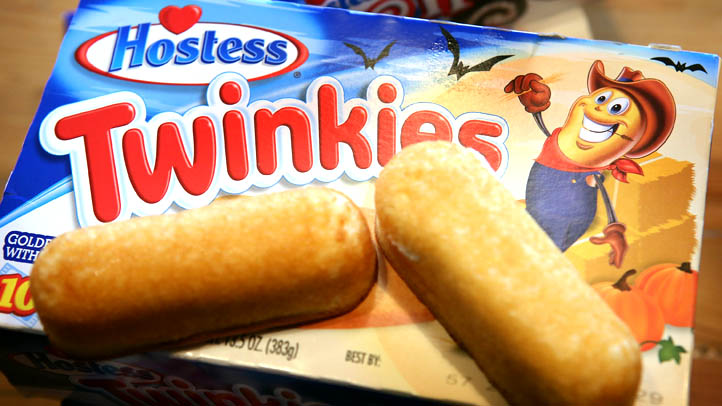 The Twinkie has lost its lifeline, and 15,000 Hostess employees are losing their jobs.
A bankruptcy judge gave Hostess the go-ahead Wednesday to wind down its operations and sell off its assets, after the ailing snack cake behemoth's last-ditch stab at mediation with its bakers' union failed.
The company is now moving ahead with its plans to shut down all its plants and liquidate.
Its CEO Gregory Rayburn told the White Plains, N.Y., bankruptcy court on Wednesday morning that it would fire 15,000 employees today so they could start collecting unemployment, Bloomberg News reported.
By afternoon, the company had Judge Robert Drain's go-ahead to start selling off its assets, after one of its lawyers said in a hearing that there was "very intense" competition for some of its brands — not just Twinkies, but Wonder bread, Hostess CupCakes, Ding Dongs and Ho Hos too.
Rayburn said that Hostess wants to keep on another 3,000 workers temporarily to clean equipment at the 36 bakeries, 242 depots, 216 retail stores and 311 hybrid facilities it wants court permission to close.
Hostess' liquidation plans, which it announced days ago before its failed last-ditch effort at mediation, came on the heels of a strike by its bakers union, a spokesman said Tuesday.
After the company's announcement, Judge Drain had asked the parties to head to mediation on Monday, but the president of the Bakery, Confectionary, Tobacco and Grain Millers Union didn't attend the session. "I'm not too optimistic," he told the Wall Street Journal on Tuesday.
Ken Hall, the general secretary-treasurer of the Teamsters union that represents the company's drivers, called the failed mediation a "tragic outcome."
Hostess had originally planned to restructure while under Chapter 11 protection.