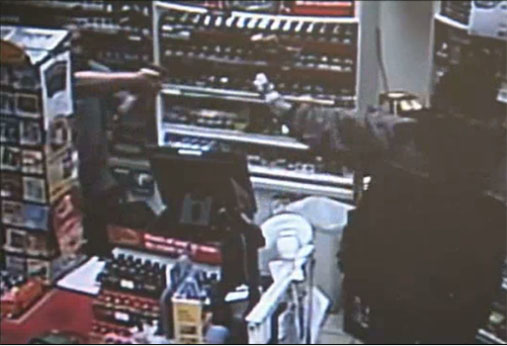 A gas station clerk in Nashua, N.H. is out of a job after stopping a robbery.
Shannon Cothran says he was working at a Shell station at about 3 a.m. Monday when a masked man entered the store and demanded money, brandishing a knife as he approached Cothran behind the counter. The clerk, known as "Bear" to his friends, pulled out a gun and scared the would-be thief away.
"He threatened my life, demanded money. Based off of his actions, his attitude, I really didn't think it was going to make any difference whether or not I gave him the money. I was convinced he was going to stab me regardless," Cothran said.
Though no shots were fired and no one was injured in the incident, which was captured on security footage, the company that owns the gas station fired Cothran just hours later for breaking workplace rules on guns.
"Make no mistake: We care about the personal well-being of employees like Mr. Cothran, whose years of service are truly appreciated - not about the money in the cash register. So, we are especially grateful that this situation was resolved without injury," Worcester, Mass.-based Nouria Energy said in a statement. "We do respect the constitutional right to bear arms. However, we believe the best way to keep our employees and customers safe is to prohibit weapons in the workplace."
Cothran, who worked at the station for 10 years, acknowledges that he "made a conscious decision to carry a weapon... which blatantly violated company policy." He said the outcome was worth it because of the risk the robber posed to life with his fiancée, her two children and a baby on the way.
"There was a choice between keeping my job or potentially being badly hurt or killed. I'd rather come home and see my family," he said.
Authorities are still searching for the suspect. Officers say as far as they're concerned, Cothran did nothing wrong because he was licensed to carry a weapon.