Why are so many of the men of fall TV taking off their shirts?
If you've made a point to watch many of the new season's premieres over the past two weeks, it's been hard not to notice all the male flesh being flaunted out there. We've had:
The male torso as punch line:
Jake Johnson' s of Fox's "New Girl" has a great technique to try to impress a girl: Even if in your own living room and flanked by your roommates, try taking off your shirt and see if magic happens. That's what Johnson's character Schmidt does while interviewing Zooey Deschanel as a potential new roommate. Getting no magic, he tries it a few scenes later with her model friend. Nope, no magic there either.
The male torso as a sign of a character flaw:
Noah Mills, playing Robbie on CBS's "2 Broke Girls" apparently got the take-your-shirt-off-to-impress a girl memo, too. But when he doffs his tight hipster T to mop up a mess made by his girlfriend's new friend, and gets a little too close, it's clear he is after more than a first impression. He doesn't get magic either -- "Back off, Jersey Shore," says Beth Behrs' Caroline. And his girlfriend later tells him to get lost. (We should mention this technique may have actually had more positive results in real life: Mills is a former model, who is even shirtless on IMDB profile photo. )
The male torso as a marker of vulnerability:
Hank Azaria, playing a freshly divorced PR exec Alex, gets three whole scenes with his shirt off in the premiere of NBC's "Free Agents." To be fair, his character is clearly a little reluctant about it -- especially as he is undressed in a fitting room -- but you can't deny his chest is a plot point as he nervously returns to dating. The scenes don't feel forced, but they do convey how awkward he feels. "It's organic," Azaria says in an interview with New York magazine on the topic.
The male torso bared in triumph:
James O'Mara's Jim Shannon went through hell to get his family to Terra Nova, the prehistoric namesake planet of Fox's new series. And when he puts in his first honest day of work in their new home, hacking giant weeds from their compound's massive fence, he takes a moment to rejoice. No shirt, fists in the air, he is filled with pure joy as he whoops and hollers. It's an emotional moment, but you just know that any celebration like that means our hero doesn't quite know the hell he is in for ahead.
The male torso -- and considerably more -- as the answer for everything:
It may be true that Ashton Kutcher is spending more time without his shirt than with it on CBS's "Two and a Half Men." He's naked in the morning, noon and night and seems to have no concerns about who sees or inadvertently touches him. Will it wear thin? As his character Waldon says, "I am tall, smart and good-looking." So that's a no.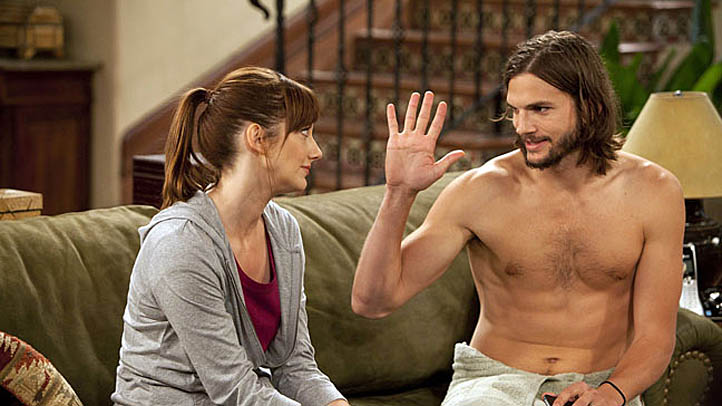 So what's going on here? As background, the New York Times points out that there is a bit of a "power shift" going on in TV, as more shows are created by women. For example, "New Girl" was created by Liz Merriwether, and Whitney Cummings -- star of NBC's "Whitney" -- is executive producer of "Two Broke Girls."
But it'd be a little bit facile to say women writers means male flesh is a given. And in fact, the chest-baring scene -- often executed with some drama -- has become sort of standard thing in modern super-hero movies from "Spiderman" to "Captain America." But at least one could argue the whole point of those films is physical transformation, and a little evidence makes some sense.
Would this fall's shows be as entertaining with a few less nipples? Could we still see "2 Broke Girls'" Robbie as a snake? Would Hank Azaria's Alex look any less lost if he kept his shirt on? Would Ashton Kutcher still be hot?
It's hard to say where all this is coming from. But it is true that male semi-nudity is often still regarded differently than female semi-nudity on television. It is somehow comical; the source of discomfort; or a sign of counter-culture fringe. "NYPD Blue" took it seriously, what with many butt-baring scenes of everyone from David Caruso to Dennis Franz. But the concept somehow never took off beyond that.
Maybe this fall's rash of bare-chested men will get us a little more accustomed to the concept, and be a start in a new direction.