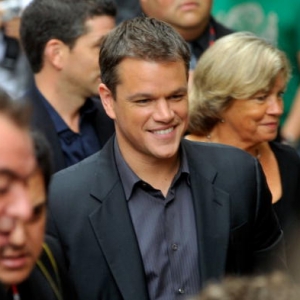 Matt Damon will join several Early Vote for Change events on Sunday and Monday, Access Hollywood has learned.
"The Bourne Supremacy" star and staunch Barack Obama supporter will attend an Early Vote for Change rally in Miramar on Sunday as well as visit with volunteers at the Sunrise and West Palm Beach Campaign for Change offices.
VIEW THE PHOTOS: Celebs At The DNC
On Monday, he'll make three more stops, attending a rally at the University of Miami, appearing at the Hollywood Campaign for Change office and joining the Miami March for Change — of 27 Monday marches in Florida in honor of the state's 27 electoral votes, whose purpose is to inspire Floridians to vote early. Early voting in the state began on October 20 and will continue through November 1 is most counties.
"I want to sprint to the finish with the millions of us who really have been desperate for this change," he told the Associated Press on Friday. He will reportedly be filming a movie in Morocco after the Florida events, but he said he'd stay involved.
Related Content from AccessHollywood.com:
VIEW THE PHOTOS: Matt Damon Filmography
PLAY IT NOW: Matt Damon: 'Bourne' To Drive
PLAY IT NOW: Access Archives: Matt Damon

MORE ACCESS ON THESE TOPICS: Matt Damon - Celebrities - Politics

Copyright NBCAH - Access Hollywood