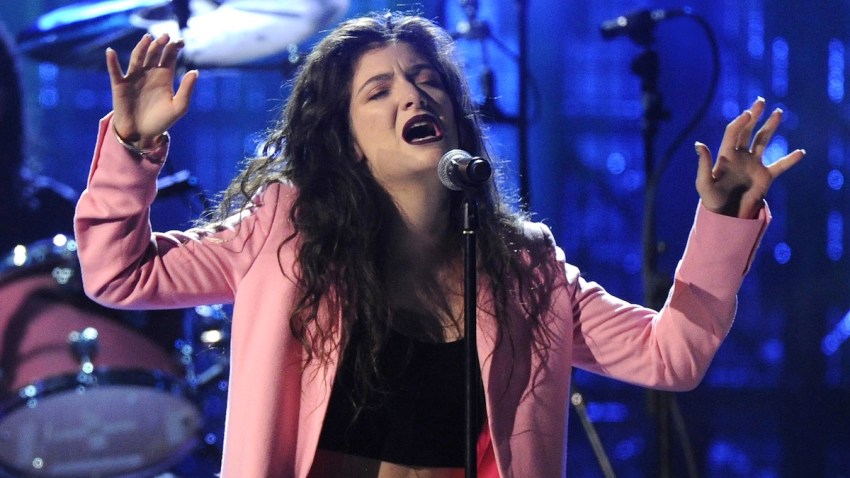 Thanks to baseball star George Brett, we have Lorde's smash hit "Royals."
The 17-year-old singing sensation met the former Kansas City Royals third baseman, the inspiration behind her breakout single, at her concert on Tuesday in Las Vegas.
"And now you're Royal. @lordemusic meets @Royals icon George Brett," MLB tweeted on Wednesday, along with a snapshot of the smiling duo.
The Grammy winner divulged last November that the song was not about a certain set of privileged individuals the likes of Kate Middleton, Prince William and Prince Harry.
"I had this image from the National Geographic of this dude just signing baseballs," the pop star told VH1. "He was a baseball player and his shirt said, 'Royals.'"
VIDEO: Selena Gomez gives props to Lorde
It turns out that the New Zealand native was so struck with the image that she immediately wrote the song based on what was written on his uniform.
Lorde added, "I really love that word...I'll pick a word and I'll pen an idea to that. It was just that word that I was like, 'This is really cool.'"
The picture in question was of the Hall of Famer, who was photographed greeting fans and autographing baseballs outside of a stadium.
NEWS: Lorde names as her style icons--and they might surprise you!
Lorde also visited the infamous Little White Chapel with some gal pals during her time in Sin City.
"Bridesmaids!!!" she captioned the cute Instagram snapshot.
PHOTOS: Musicians performing live on stage
And now you're Royal. @lordemusic meets @Royals icon George Brett. pic.twitter.com/7BPRW6VYJD — MLB (@MLB) April 16, 2014
Copyright E! Online