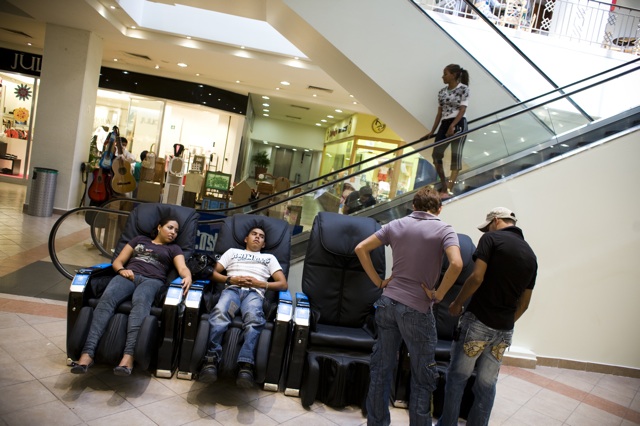 Many important areas of our nation's economy have already received a boost from the government. Banks and car manufacturers have received billions in taxpayer money. Billions more will pour into new transportation and environmental projects due to new stimulus spending. And yet malls get nothing.

Back in simpler times, people could go to a mall and have their many physical, spiritual, sartorial, and culinary needs attended to. Under one roof you could find ladies' walking clubs, chapels, clothing stores, and vendors of cryogenically frozen ice cream -- in other words, everything you needed to leave a full and happy life.

People were born in malls, married in malls, drew their last breaths in malls. Some of them never left, and lived wonderful lives within their hermetically sealed confines. But those days are rapidly becoming a thing of the past, thanks to a crumbling commercial real estate market that's leaving many malls abandoned.
Some analysts estimate that the number of so-called "dead malls" -- centers debilitated by anemic sales and high vacancy rates -- will swell to more than 100 by the end of this year.

[...] The industry's woes are worsening. Thinning customer traffic, and subsequent hits to tenants' sales and profits, prompted Standard & Poor's Corp. last month to lower the credit ratings of the department-store sector. That knocked Macy's Inc. and J.C. Penney Co. into junk territory and pushed others deeper into junk. Sears Holdings Corp., a cornerstone tenant at many malls, is expected to close 23 stores this month and next.


If we're going to spend federal dollars on restoring historically significant pieces of architecture such as the Texas Governor's Mansion, we should not hesitate to throw some cash at malls, which are as American as the apple pie you can get in a little cardboard sleeve from the McDonald's at the food court right next to Macy's.

Sara K. Smith writes for NBC and Wonkette to support her debilitating Dippin' Dots habit.
Copyright FREEL - NBC Local Media