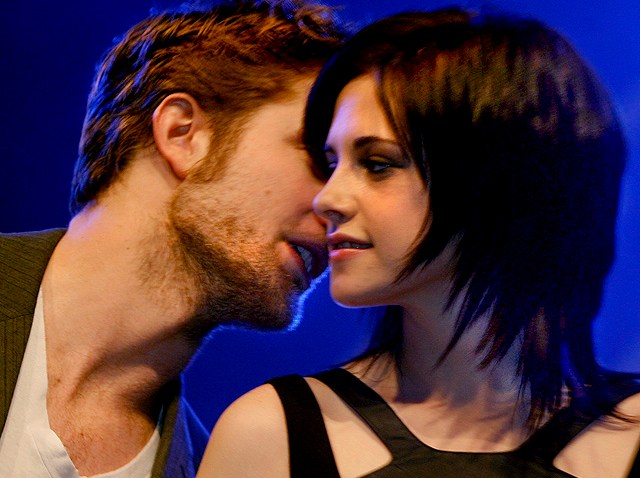 Kristen Stewart and Robert Pattison have shrugged off rumors that they are dating for more than a year – and the 20-year-old "Twilight Saga" star is continuing to keep quiet on the rumored romance.
"Why would I want anything that's private to become entertainment for other people?" Kristen told Britain's ELLE magazine in its July issue. "People say that if I just tell them everything I'll be left alone, but God, you think if I tell people they'll leave me alone? They pick up every little scrap, and that's much worse."
VIEW THE PHOTOS: Sexy Shots Of The 'Twilight' Werewolves
The notoriously shy actress said the paparazzi are relentless with her and often times rude.
"What you don't see are the cameras shoved in my face and the bizarre intrusive questions being asked, or the people falling over themselves, screaming and taunting to get a reaction," she explained.
VIEW THE PHOTOS: See The Men Of 'Twilight' - Shirtless!
At times, Kristen says she feels like the attention from the press is similar to a sexual assault.
"The photos are so … I feel like I'm looking at someone being raped," she continued. "A lot of the time I can't handle it. I never expected that this would be my life."
The actress also told British ELLE that she takes issue with being portrayed as someone who doesn't care.
VIEW THE PHOTOS: 'Twilight's' Leading Lady Kristen Stewart
"[It] really bothers me when people write nasty s*** about me and the perception is that I don't give a f***," Kristen said. "It could not be further from the truth."
"The Twilight Saga: Eclipse" opens in theaters on June 30.
VIEW THE PHOTOS: Hot Shots From 'The Twilight Saga: Eclipse'
Copyright 2010 by NBC Universal, Inc. All rights reserved.
This material may not be published, broadcast, rewritten or redistributed.
Related Content from AccessHollywood.com:
PLAY IT NOW: Weekend Radar: May 22, 2010
PLAY IT NOW: 'Eclipse' Soundtrack Music Video: Muse - 'Neutron Star Collision'
More from Access: [ Twilight The Twilight Saga Kristen Stewart ]
Copyright NBCAH - Access Hollywood