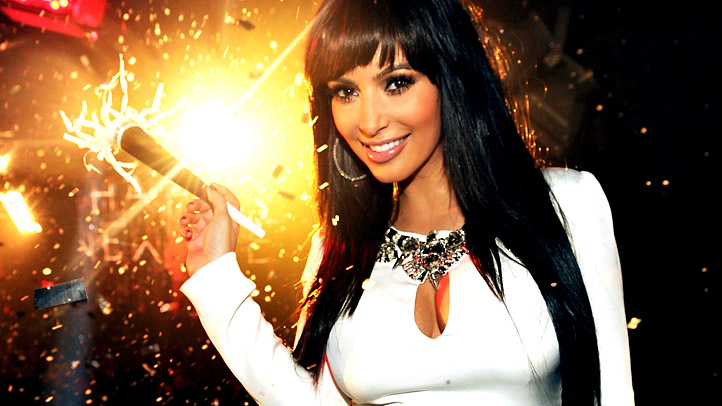 It was a rollercoaster year in 2011 for Kim Kardashian – and now that the calendar has turned to 2012, the reality star said she's focused squarely on the future.
"I'm looking forward to moving forward," Kim told People of her outlook for the New Year. "And never looking back."
VIEW THE PHOTOS: I Do! Celebrities Who Got Married On TV
With a surprise engagement to NBA star Kris Humphries, a grandiose made-for-reality TV wedding – and a shocking divorce only 72 days later, Kim said despite her headline-making 2011, she has come away with one very important lesson.
"I learned to always follow [my] heart," she told the mag, while celebrating New Year's Eve at Tao Las Vegas on Saturday night.
VIEW THE PHOTOS: Celebs Who Moved To Splitsville In 2011
On Sunday, Kim also hit up her Twitter page to share her thoughts on gearing up for 2012.
"Funny how people look 4 a fresh start in the New Year but the truth is its just an excuse! U can start fresh & set goals any day of the year," she wrote.
"Who else is soooo ready to let go of 2011 and have the best 2012 ever!!!" Kim added.
VIEW THE PHOTOS: The Many Men Of Kim Kardashian
Copyright 2012 by NBC Universal, Inc. All rights reserved.
This material may not be published, broadcast, rewritten or redistributed.
Related Content from AccessHollywood.com:
VIEW THE PHOTOS: Kim Kardashian & Kris Humphries In Happier Times
PLAY IT NOW: Access Investigates: The Difficulties Of Hollywood Marriages
PLAY IT NOW: Access Hollywood Live: Kendall Jenner - Which Kardashian Sister Gives The Best Advice?
More from Access: [ Kim Kardashian Resolutions Kris Humphries ]
Copyright NBCAH - Access Hollywood