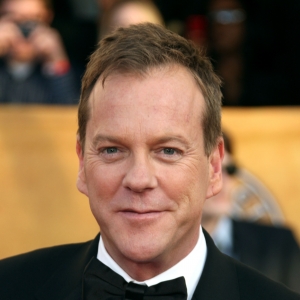 A smiling Kiefer Sutherland traded quips with Jimmy Fallon in his appearance on "Late Night" on Thursday, but there was one subject that the "24" star turned serious on.
"We can joke about it but it's something that I really regret having happened," Kiefer said regarding his alleged headbutt of designer Jack McCollough in a late-night altercation two weeks ago. "And until it's kind of resolved, I really can't talk about it."
VIEW THE PHOTOS: Kiefer Sutherland
"Do you think that you're ['24' character] Jack Bauer?" Jimmy asked him.
"Absolutely not, I learned that really clearly on the first season," he said.
VIEW THE PHOTOS: Primetime Hunks
On a more humorous note, Kiefer revealed that "24" has been stockpiling the show's funniest moments for a future release.
"We've actually saved bloopers for about seven years. I think we're going to save [them] for the very final year," he said. "The show is so serious – when something does go wrong it's unbelievably funny. There was one time I was being very macho and kicked the door open and I'm standing doing my scene and the door came off the hinges and knocked me out."
As for the future of Jack Bauer, who finished Season 7 in a coma, Kiefer said Season 8 won't jump too far ahead.
VIEW THE PHOTOS: NBC's New 'Late Night' King: Jimmy Fallon
"All of our seasons have normally had a year or two years in between these horrific days," he said. "The separation between Season 7 and Season 8 is actually very small. So that's going to be part of the process at the beginning of next season."
As previously reported by AccessHollywood.com, the drama's eighth season will be set in New York City.
But Jack Bauer did make a quick appearance on the late show — Kiefer recorded a "24"-worthy voicemail message for Jimmy at the end of the segment.
"Fallon's phone. Who is this?" he barked. "Who do you work for? Damn it! Leave your message at the sound of the tone – now!"
Related Content from AccessHollywood.com:
PLAY IT NOW: Jack Bauer Races To The End Of Another Day
PLAY IT NOW: T.G.I.F. - Did Kiefer Sutherland Turn Himself In To Authorities? (May 8, 2009)

MORE ACCESS ON THESE TOPICS: Kiefer Sutherland - Jimmy Fallon - Late Night - Celebrities

Copyright NBCAH - Access Hollywood