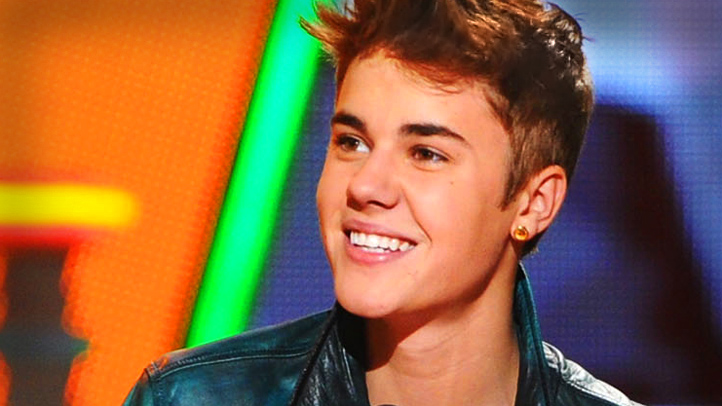 It's every Beliebers worst fear: Justin Bieber taking a break from his singing career.
Based on the Biebs bad month, the idea doesn't seem too far-fetched. The 19-year-old singer has been constantly criticized for his antics as of late, most recently being accused of battery by his neighbor at his L.A.-area home.
But the pop star isn't afraid to take a stand, firing back at his haters in a new interview with Us Weekly in which he admits he might take a "break" while he's "figuring out" his life.
All the details on Bieber's bad week
"The biggest misconception about me is that I'm a bad person," the superstar tells the mag. "I get upset about that. I have a big heart. I want to be a good role model, but some people want me to fail."
"I'm young and I make mistakes," he adds. "That's part of growing up. I mess up sometimes."
Growing up in the public eye certainly hasn't been easy for the star. In addition to his battery case, the singer attacked paparazzi on the streets of London and came under serious fire for canceling tour dates and arriving two hours late to his London show.
Bieber made how much last year??! Find out how many millions the teen banked
Still, the singer never forgets about his loyal Beliebers, and he admits he continued his London performance after collapsing onstage because he didn't want to upset his fans.
"I passed out from the flu. The worst thing to me is disappointing my fans--we only had five songs left--so they gave me oxygen, and I decided to finish the show and then go to the hospital. The show must go on."
Indeed, it must, and so must the life of the Biebs, despite his desire to get away from the constant media attention.
"I wanted to hide my face from all the cameras," Bieber explains in response to the odd gas mask he donned across the pond. "They [my friends] got it as a joke. My friends and I like messing around."
And while a little messing around may have contributed to J.B.'s "worst birthday" ever, he vows not to buy into the negative attention:
"I know who I am and I'm not gonna let negativity towards me bring me down. I'm a positive person and I plan on staying that way," he says. "This business can break you down, but I have a strong team around me, and my family and all the fans. The love overcomes the negativity. I'm not perfect but I'm growing and trying to be better every day. That's part of life."
Wise words from a young star who's supposedly spiraling out of control, and the pop sensation is already plotting his next career move. He was also announced as the new face of Adidas' Neo Label in October and currently stars in the company's interactive lookbook spring/summer ad campaign.
"I'm thinking about my next album, next tour. Or maybe I'll take a break," he confesses. "I'm figuring it out. Isn't that what you're supposed to do at 19?"
Sounds about right, and the Biebs doesn't seem to have too much of an issue with his recent behavior:
"I'm young and I want to have fun," he admits. "I don't think there is anything wrong with that."
Copyright E! Online