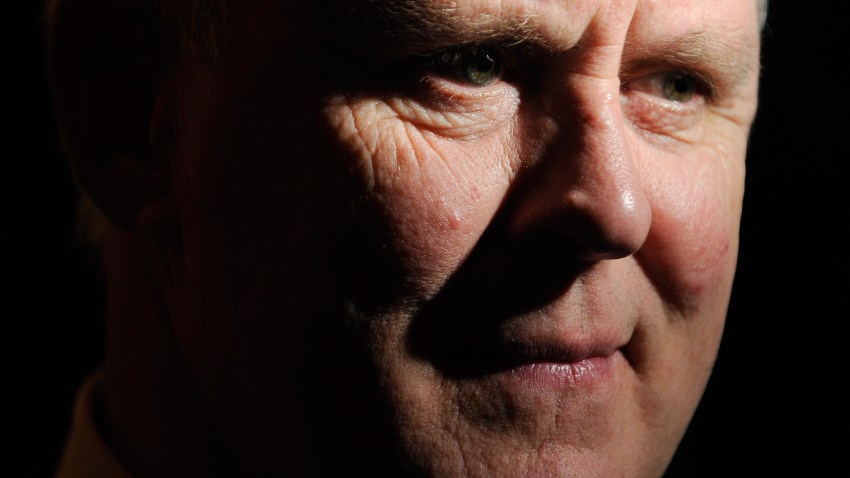 With the world finally getting its first glimpses of "Rise of the Planet of the Apes," we were curious what one of the movie's non-simians, veteran actor John Lithgow, had to say. on the subject.
"I had a fantastic time, because I played James Franco's father, a character with early onset Alzheimer's, with all that fear and defensiveness and edginess," Lithgow tells PopcornBiz. "It was a fabulous experience, creating a wonderful acting relationship with Franco – loved him! I'm in about the first third of it. My role has a lot to do with the unfolding action. I read it and I really was really impressed. I mean, for a big studio franchise film, a prequel to a sort of sci-fi classic, it is a very smart movie."
Lithgow has high hopes for the finished product. "I suspect if they do it right it'll be a wonderful film," he says. "They've got all these CGI magicians, the WETA gang who did 'Avatar.' They are creating this cast of hundreds of apes and primates, and I think it's going to work. It was fascinating to work on. And one of the great performances is Andy Serkis, playing the major ape."
"We've got all these terrific scenes with Andy. He's so delightful and so smart and such a talented actor," says Lithgow, recalling a previous project in which another "creature" actor's performance made the film work. "I had that experience in 'Harry and the Hendersons' working with Kevin Peter Hall as Harry, and it was very much the same thing. He just could get all the credit he deserved because you never see him, but boy, he's the one who made that entire character."
On the heels of his acclaimed and chilling turn as the Trinity Killer in "Dexter's" fourth season, Lithgow recently returned to the sitcom world (he collected armloads of Emmys as Dick Solomon on "3rd Rock From the Sun") with a recurring stint playing Neil Patrick Harris' long-lost – and brilliantly boring – biological dad on "How I Met Your Mother." The actor doesn't rule out another regular role on the small screen.
"I'm wide open to anything and I hate being out of work," he says. "Cable television I think is where the most creative work is being done right now. Some network TV will still surprise and astonish you, but cable – that was an ideal job. It was a 12-episode arc and I loved every second of it. I never had a chance to get tired of it, never felt trapped by it. Then it ended. When you're a villain on 'Dexter' you don't last, you don't stick around."
He enjoys playing characters that blend an air of menace with mirth. "I love the strain of comedy in a villain. And I love a strain of darkness in a comedy. It's a potent strain. A horror film with a comic moment, like 'Dexter,' it's just great! It's basically keeping an audience and upending their expectations. There's nothing more delicious than that."