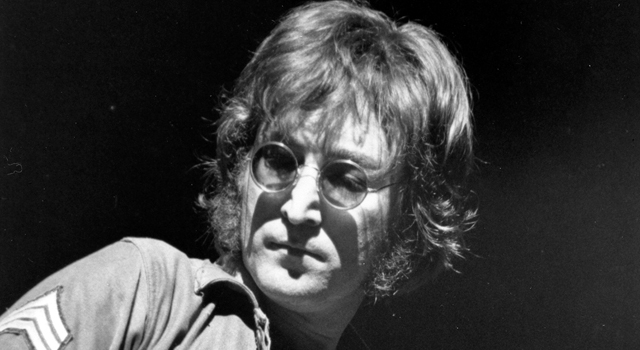 Bids began at $300,000 on Saturday, Nov. 7, for John Lennon's long-lost guitar that turned up in San Diego earlier this year -- but no one expected the final price tag for the Fab Four acoustic to reach such monumental heights. The winning bidder paid a cool $2.1 million (plus a $300,000 premium to Julien's Auctions) for the Gibson J-160E.
That's right: $2.4 million has given the winning bidder the chance to play the same acoustic/electric guitar that Lennon and Paul McCartney used to write "I Want to Hold Your Hand," "From Me to You," "All My Loving" and other Beatles hits, any time they choose to.
Prior to the auction, the instrument was estimated to fetch at least double that amount, with some estimates putting the winning bid at over $1 million. However, the final selling price exceeded even the loftiest of expectations.
In comparison, the highest amount a guitar has fetched at auction to-date was the "Reach Out to Asia" Fender Stratocaster that sold for $2.7 million in 2005 (auctioned by Sotheby's) to benefit the victims of the 2004 Indian Ocean earthquake and tsunami. That guitar was autographed by a who's who of rock & roll legends: Eric Clapton, Keith Richards, Brian May, Jimmy Page, David Gilmour, Jeff Beck, Pete Townsend, Mark Knopfler, Tony Iommi, Paul McCartney, Sting, and many others.
With a $2.1 million price tag, Lennon's acoustic ranks far above the next four entries on the list of high-priced guitars sold at auction over the years: Bob Dylan's 1964 Newport Festival Stratocaster (sold for $965,000 in 2013), Eric Clapton's "Blackie" Stratocaster (sold for $959,500 in 2004), Jerry Garcia's Doug Irwin Tiger guitar (sold for $957,500 in 2002), and Eric Clapton's 1964 Gibson ES-335 TDC (sold for $847,500 in 2004).
Lennon's Gibson J-160E has a storied past of theft and discovery -- one that dates back to 1963, when it went missing after a show in London. Lennon had played the Gibson for just 15 months on tour and in the studio, having picked it and another one up in Liverpool with George Harrison the year before. After being used to record multiple U.K. singles (including "Love Me Do") and full releases ("Please, Please Me," anyone?), Lennon's guitar would rest in comfortable obscurity for another 52 years before it would see the spotlight again -- right here in San Diego.
In June, NBC 7 reported that John McCaw, a San Diego building contractor, said that a friend had unknowingly bought Lennon's Gibson in a local music shop a couple of years earlier. That friend sold it to McCaw for about $175.
Forty-five years later -- after decades of using it to teach his sons and strumming on it during amateur jam sessions -- McCaw began to realize what he had.
"[I] went through a lot of different emotions," said McCaw. "The first one was excitement. Then started to be overwhelmed, realizing what we did have, what it meant and could mean to the world."
The realization dawned on McCaw when he opened a 2012 issue of Guitar Aficionado last year and saw a picture of George Harrison's guitar between the folds. It matched McCaw's.
Wanting to confirm his hope, McCaw and his friends reached out to international experts to authenticate that the Gibson was once Lennon's. It helped that Lennon had played the guitar roughly, leaving behind marks as he slapped and strummed hard behind the strings. The scratches and scars led to a positive identification.

Hannah Lott-Schwartz, a San Diego native, moved back to the area after working the magazine-publishing scene in Boston. Now she's straight trolling SD for all the music she missed while away. Want to help? Hit her up with just about anything at all over on Twitter, where -- though not always work-appropriate -- she means well.