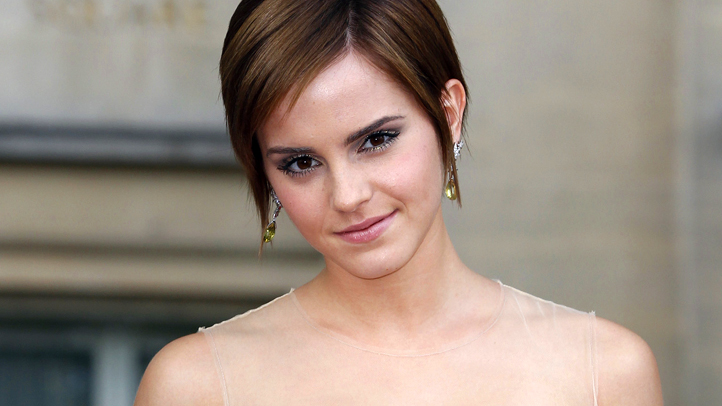 A week after Hurricane Sandy devastated the Eastern Seaboard and wreaked havoc on New Yorkers and New Jersey residents alike, celebrities are helping to keep the attention on where it belongs: victims of the storm.
To that end, that Emma Watson joined ex-CNN anchor Paula Zahn and celebrity chef Sandra Lee in volunteering to deliver meals to homebound elderly in and around Manhattan's five boroughs via the charity Citymeals-on-Wheels, the New York Post reports.
The 22-year-old thesp has been in town filming the Darren Aronofsky-directed biblical drama Noah, which, ironically, was forced to halt production temporarily due to Sandy. Her costar Russell Crowe, who plays the movie's bearded titular hero, also helped out by making a donation.
Jersey Shore cast doing live special for Hurricane Sandy relief
"In honor of Seth &L.I Coast Guard &friends on Staten Island, donated to NYC Mayors Fund and plant a million trees fund," the actor tweeted on Sunday.
Cyndi Lauper, meanwhile, suffered a very personal loss as her 90-year-old uncle George Stathis was found dead in his Rockaway, Queens, home after the hurricane's floodwaters engulfed the peninsula.
Per the Post, the popster paid tribute to him by performing her hit "Time After Time," which she dedicated to her late uncle, at the Lenox Hill Autumn Ball, a benefit concert for storm victims that took place at the Waldorf-Astoria Hotel on Monday.
New York City marathon canceled
"I lost my Uncle George in the hurricane," she said. "He was old. He didn't want to leave his house. I was in Chicago, and I called and said [to relatives], 'Why did you guys leave him,' and they just didn't think it was going to get that bad.'"
In other Sandy-related news, ABC's Day of Giving charitable drive on behalf of storm victims raised $16.8 million for Red Cross relief efforts, including donations from the likes of billionaire entrepreneur and "Shark Tank" star Mark Cuban and ABC's Barbara Walters.
Jimmy Kimmel has also announced plans to auction the desk he used while taping "Jimmy Kimmel Live" last week in Brooklyn to benefit the cause. The desk was signed by such celebrity guests as David Letterman, Jon Stewart and Stephen Colbert, and proceeds will also go to the Red Cross.
Best moments from NBC's Hurricane Sandy telethon
Last but not least, Steve Buscemi taped a special message that was posted on YouTube yesterday, in which he noted that his hit HBO drama "Boardwalk Empire" frequently shoots in the Rockaways and that his friends who live there, many of them firefighters, were victimized by the storm as well.
He then encouraged people to give to his foundation, Friends of Firefighters, which provides goods, services, equipment and even housing to firefighters and their families.
"They are our first responders and they are at a time of need so please give what you can," he implored.
Would you like to help? Text REDCROSS to 90999 ($10 donation) or visit http://redcross.org
Copyright E! Online